Cures for Hunger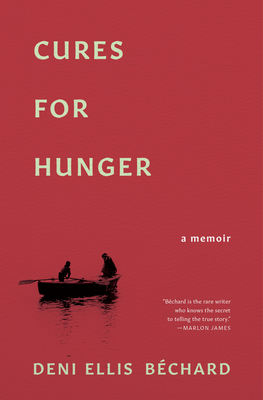 Cures for Hunger
Milkweed Editions, Hardcover, 9781571313317, 320pp.
Publication Date: May 15, 2012
* Individual store prices may vary.
Buy at Local Store
Enter your zip code below to purchase from an indie close to you.
or
Buy Here
Description
Where did such longings reside in us, passed on through blood or stories? It seemed to me then, hearing his words, that a father's life is a boy's first story. from "Cures for Hunger"
At once an extraordinary family story and a highly unconventional portrait of the artist as a young man, "Cures for Hunger" is a singular, deeply affecting memoir, by one of the most acclaimed young writers in the world today.
"In "Cures for Hunger," Deni Y. Bechard has created a moving story of rootlessness, rebellion, lost love, criminal daring, regret, and restless searching. Driven above all by the need to grasp his father's secrets, he has written his narrative in skillful, resonant prose graced with a subtle tone of obsession and longing."
Leonard Gardner, author of "Fat City"

About the Author
Deni Y. Bechard was born in British Columbia to a loving and health-conscious American mother and a French-Canadian father with a penchant for crime and storytelling. He grew up in primarily in B.C. and Virginia, but an insatiable drive for travel and experience led him to roam widely across North America. "Cures for Hunger" focuses on the experiences and effects of his nomadic childhood.

Bechard's first novel, "Vandal Love," (Doubleday Canada, 2006) won the 2007 Commonwealth Writers' Prize for the best first book in the entire British Commonwealth. He has been a fellow at MacDowell, Jentel, the Edward Albee Foundation, Ledig House, the Anderson Center, and the Vermont Studio Center, among others. His articles, stories and translations have appeared in a number of magazines and newspapers, among them the "National Post," the "Harvard Review" and the "Harvard Divinity Bulletin." He has reported from Iraq and Afghanistan, among other places, and has lived in over thirty countries. When not traveling, he divides his time between Tokyo, Cambridge, and Montreal. "Cures for Hunger" and "Vandal Love "are his first--and simultaneous--book-length publications in the United States. The Rumpus Book Club Interviews Deni Bechard

June 22nd, 2012

The Rumpus Book Club chats with Deni Bechard about his book "Cures for Hunger," the complexities of memoir and fiction, and the difference between traditional French and Quebecois. "Editor's Note: Because we experienced software issues during the chat, we gave Bechard the chance to answer some questions that he couldn't see during the actual chat. These additions are in italics. (This has been edited.) "

Brian S: Was writing this book significantly different from the other writing you've done?

Deni Bechard: Yes. Very different. I never wanted to write a memoir, and when I finally decided that this subject matter was meant to be a memoir, I realized that I would be working with a slightly different set of tools.

Kristy E: Why didn't you want to write a memoir?

Brian S: So did you start by thinking you would just write a novel and this grew out of it?

Deni Bechard: I loved novels, and I had always planned on writing only novels. So when I started writing this book, I intended it to be fiction, and I allowed myself certain freedoms in terms of style, etc. But after about twelve years of coming back to the manuscript, I realized that I needed to write it as a memoir-that I was caught between fiction and memoir, and it wasn't serving the book well.

Betsy: It's a little weird to talk about your mom and dad as though they are simply characters in a book, but they are such Characters. For some reason, I cut your mother a lot of slack as I read. She is doing her best, or isn't, and my heart went out to her even when I sometimes thought What Are You Doing? Nooooo! Have you been getting those reactions to your parents from readers? Reading your parents as fictional? I was engrossed from start to finish.

Deni Bechard: Yes, I have been getting those responses, more from women than from men. Women have generally been the readers who voice their feelings about my parents' choices and how they both tried to understand them but were horrified to see what they were up to.

Kristy E: How much rewriting did you have to do on account of the shift to memoir?

Brian S: I was going to ask how long it took to write-12 years? That's a project.

Deni Bechard: I rewrote the vast majority of the material, but even as I reworked it, I realized that I could go much deeper into the scenes, and I threw away even the first drafts of it as a memoir. Less than a fifth of the material dates to before Dec 2009.

Kristy E: The back and forth was really hard to read. My heart just went out to him being caught in between being who he was and who his dad wanted him to be and who he thought he might be.

Brian S: I found myself also wanting to read the father in his own words, which is impossible obviously. But get another point of view. So where were we?

Kristy E: Yes, a child's understanding of a parent can be limited.

Brian S: Even looking back as an adult, it's tough. I think I find memoir as a genre fascinating because it shows the difference between fact and truth so vividly.

Deni Bechard: I agree with this. Writing the memoir, I was very conscious of how everyone involved was constructing their identities, trying to tell their own stories within the context of the book. It made me realize that even while I was trying to record my memories truthfully, those memories contained stories that were certainly often somewhat fictionalized. My father presented his past in such a way as to achieve his immediately goals, and I spent a lot of time both while growing up and while writing the book trying to figure out what was true in his words.

Deni Bechard: What I was going to say earlier about the transition between fiction and memoir also addresses this. By the way, most of my comments aren't going through. A little worrisome. I think that my computer is having a problem with this.

Kristy E: I was just commenting that it must be difficult to write a memoir about a relationship with a parent, when that parent limits what you know about him.

Deni Bechard: That's exactly what I struggled with. The knowledge that my father decided to share with me influenced how I perceived him and whether I respected him. It wasn't in his interest to have me know too much. But the memoir was very much about that search, about trying to unravel my father, trying to figure out what had created him, where he'd come from, what his motivations were.

Brian S: I have this sense that you can only ever really describe your relationship from your own point of view, because you can never really know what's happening in another person's head.

Deni Bechard: That's true. And in a sense, I realized that my portrayal of my father would ultimately be a self-portrait.

Deni Bechard: As I wrote the memoir, I had clear sense of wanting to unravel my father, much in the way that Faulkner would unravel his characters, and to open him up to history and in a sense forgive him. This was much easier to do with fictional tools-or at least it seemed that way. So when I rewrote it with memoir, I found that the process was much more subtle, from showing my perception of him when I was a child to my growing understanding of who else he might have been as I got older.

"The other literary influence who was very present in my mind as I wrote, and whom I should mention, was Tolstoy. I have always loved how he transformed characters gradually over time, and I wanted both to unravel my father as Faulkner had done with his characters and to transform both my father and myself slowly over time. As I searched to understand what was in my father's head and to know who he was, I increasingly tried to live aspects of his life and changed who I was, getting to know him by becoming like him."

R. Rafferty: So Betsy brought up an interesting point about your mother in the story, I know the relationship with your father was much more the focus, but I felt there was a lot to read between the lines about your relationship with your mother. Can you talk a little bit about why you chose to not keep that part of your life more veiled?

Deni Bechard: I didn't intend to keep that part of my life veiled. My mother wasn't very present during my late teens. However, her influence remained very strong, and the writing that she brought into my life in many ways continues her narrative.

"What I mean by that is that she valued writing very strongly when I was a child, and I came to indentify myself as a writer at a very young age. The memoir in many ways explores how writing saved and transformed me, and her voice and values often come through my choice to pursue writing."

Brian S: Were there ever times when you were writing this that you started to question your memory? That's always an issue with memoir, after all, especially when you start off writing a novel. Especially with the ongoing argument over the issue of truth versus fact in memoir and nonfiction.

R. Rafferty: Awesome question Brian, you beat me to it. I kept thinking to myself, especially early on, how can he remember so much about his early childhood and teenage years...and in such great detail!

Deni Bechard: Whereas earlier on my mother is speaking to me and encouraging me to live a certain way, later in the story, it is the writing that is driving me to live a different life.

Betsy: Okay, well then. On to my favorite paragraphs and line in the story. The most poignant, telling part of the story that gave me the most insight into your father is on pages 256-257, where your dad has been told he can't go live with his uncle and become educated because he was needed at home to work. He is given the silver chain that he ties to a wood chip and eventually loses in the barn. I love that section. And my favorite line/quote is where he says, "That's how pathetic that life was," he explained. "That something like that could matter." I had to pause there and just be silent for a while. it summed it up. Really beautiful. I loved this book - one of the best books we've read, I think.

Deni Bechard: This comment didn't come through in the online chat because of the technical difficulties. I just want to say thank you, Betsy. I really appreciate your thoughts on this.

David B: If this question connects Deni, I wondered if you felt you resolved some issues with your father in those last days before he died. In your book you didn't mention that you loved him.

Deni Bechard: I definitely did resolve some questions that I had regarding him over the seventeen years of writing the book. In a sense, I made him human and found him in myself.

R. Rafferty: I see, I understand its obviously your life to tell us but I found myself wondering about your mother and how she influenced your life in those early years, as well as your siblings.

Deni Bechard: She had a very strong influence actually, and though she doesn't occupy a large part of the book, she is quite present in the beginning. Her vision of my future very much influenced how I chose to live my life, and she was a master of making small comments that stuck with me and often caused me to make good decisions at crucial moments.

Deni Bechard: I often questioned my memory and worried about this a great deal. It is very difficult to know how our memories change with time. But what startled me is that I realized that many of my memories seemed to be becoming more accurate as I got older, largely, I think, because I had more emotional distance and my understanding of people had deepened. It was easier to recreate scenes based on my knowledge of the people, given that it is impossible to recall every word that they said. (continued on therumpus.net)
Praise For Cures for Hunger…
A coming of age story with rare and loving insights into the vulnerable hearts of men and boys -- and the women that help shape them."
Shawn Lawrence Otto, The Huffington Post

"Cures for Hunger is a poignant adventure story with a mystery . . . But it is also, perhaps even more so, the story of an artist coming of age. Readers will be reminded of James Joyce's Portrait of the Artist as a Young Man."
Bill Eichenberger, Cleveland Plain Dealer

"Béchard's sad and moving memoir is all about secrets and regret and, ultimately, finding peace."
Jim Carmin, Minneapolis Star Tribune

"A poignant but rigorously unsentimental account of hard-won maturity."
Kirkus Reviews

"A coming-of-age story of lost innocence, violence, and tenderness by a writer obsessed with the man who influenced him the most but was there the least."
Jonathan Fullmer, Booklist

"Béchard's story is one of personal discovery, and a teasing out of the function of memory: what it keeps, what it loses, and what it saves."
Publishers Weekly

"In Cures For Hunger, Deni Y. Bechard has created a moving story of rootlessness, rebellion, lost love, criminal daring, regret, and restless searching. Driven above all by the need to grasp his father's secrets, he has written his narrative in skillful, resonant prose graced with a subtle tone of obsession and longing."
Leonard Gardner, author of Fat City

"This powerful and haunting memoir is a must-read for anyone who has ever struggled to uncover their identity within the shadow of a parent. Written in exquisitely sharp prose, Béchard combs through his attempt to understand his father's mysterious existence with inspiring precision. This book is huge and achingly true."
Claire Bidwell Smith, author of The Rules of Inheritance

"You haven't read a story like this one, even if your father was the kind of magnificent scoundrel you only find in Russian novels. Béchard is the rare writer who knows the secret to telling the true story. Just because the end is clear doesn't mean the bets are off."
Marlon James, author of The Book of Night Women

Béchard writes that prison taught his father the nature of the self, the way it can be shaped and hardened.' As in a great novel, this darkly comic and lyrical memoir demonstrates the shaping of its author, who suffers the wreckage of his father's life, yet manages to salvage all the beauty of its desperate freedoms. Béchard's poetic gifts give voice to the outsiders of society, and make them glow with humanity and love."
Elizabeth McKenzie, author of Stop That Girl

"Cures for Hunger is flush with tenderness...much more than a memoir of youthful misadventure, though it contains plenty of that. It's also an exploration of the oppression of lineage, of familial duty, wanderlust, and perennial dissatisfaction, and the most American theme of them all: personal reinvention."
Joseph Holt, The Iowa Review

Cures for Hunger is the best book I picked up at Winter Institute 7, and that alone would have made the trip worth it. The author tells the story of his extraordinary upbringing in British Columbia mostly influenced by a father who enjoyed cheating death by doing everything from racing trains at railroad crossings to fighting anyone who crossed him. The even wilder deeds of his father's past couldn't be kept secret, and as they were slowly revealed, this loving and bizarre Dad shaped the life of his son. Deni Bechard has done a masterful job of taking all that life has dealt him, accepting it and analyzing it in a fascinating piece of literature. I found myself alternating between cringing and laughing with each page.
Peter Schertz, Maria's Bookshop, Durango, CO

"Deni Y. Bachard's early childhood in British Columbia was filled with a Tom Sawyerish adventure filled lifestyle that most boys could only dream of. His idol during this time was his father Andre, a no nonsense, rough around the edges French Canadian whose shady past was always only a step behind him. After a shocking split between his parents, Deni's new life with his mother in America leaves much to be desired. His inner battle between the two worlds he cherishes has him constantly guessing which path to take. Only through choosing his own way does he discover that the life he always wanted is far from the life he truly needs."
Matt Falvey, Next Chapter Bookshop, Mequon, WI

Praise for Vandal Love:

"Don't think of Vandal Love as a page-turner. It's a novel you'll want o read slowly, savoring prose that's both lyrical and gritty, able to evoke big emotions with exquisite intimacy. Deni Y. Béchard's masterful debut sweeps through North America from rural early-20th-century Quebec to an ashram in 21st-century-New Mexico, following several generations of a French-Canadian family in which 'children were born alternately brutes or runts.' Family patriarch Hervé Hervé, a farmer and fisherman who speaks of his larger children as 'keepers' (some of the small ones he actually gives away), 'had become as hard as the country...so that it was he his children now fled.' As Herve's progeny scatter south and west from Quebec, each is driven by a visceral longing to connect, whether to God or mere humans. But whatever happiness they manage to find never lasts long. Inevitably Hervé's descendants leave, or are left by, anyone who could soothe their loneliness. And the path to God is, as one character comes to realize, 'the least sure of all roads.' If this unusual story--like its characters--occasionally seems to wander without a clear destination, the final stunningly poignant pages prove that Béchard knew exactly where he was taking us all along."
O, The Oprah Magazine

"In this moving and entertaining debut, the Hervé family suffers from a genetic quirkor divine maladythat results in their children growing into towering brutes or sickly runts. In mid-20thcentury Quebec, the hard drinking patriarch Hervé Hervé reduces his family by lendingor simply giving awaythe runts, while keeping the giants for labor. Set both in Canada and several American states, from Maine to New Mexico, and spanning more than half a century, the novel divides itself between the isolated introspective pugilist giant Jude, and François, a sociable, religious runt. Though the two Hervé brothers are very different in appearance, they both feel the need to strike out alone, creating their own families and identities in transcontinental voyages. This is both a road novel and a voyage through time, with each of the book's two parts covering the lifetimes of several family members in an examination of the Hervé lineage. Ruminations abound on sex, violence, and the bonds between people. Though Béchard (Cures for Hunger, a memoir) has a journalism background, this fiction debut, unfolding in punchy prose, recalls Márquez with a French-Canadian twist. "
Publishers Weekly (starred)

"Béchard has a voice and a vision all his own, both tough-minded and passionately emotional."
Kirkus (starred)

"A family mythos reminiscent of Faulkner."
Jonathan Fullmer, Booklist

An enormously impressive debut by a clearly gifted writer."
Robert Olen Butler, Pulitzer Prize-winning author of A Good Scent From A Strange Mountain

Vandal Loveintroduces a gifted new writer. Béchard's surety of voice and confident narrative span declare a first rate novel and an eloquent debut."
Commonwealth Judging Panel

Reminiscent of Proulx and Doctorow in both sweep and grace of prose, it is hard to believe that Vandal Love, so elegant and accomplished, is only Béchard's first novel."
Dagoberto Gilb, Author of The Magic of Blood and Woodcuts of Women

The word 'masterpiece' is not to be used lightly, but one is tempted in the case of Vandal Love, for the scope of its ambition, its originality, and its muscular use of language conjure a young Faulkner, Garcia Marquez, or Steinbeck."
Katherine Min, author of Secondhand World

Masterful storytelling and heartbreakingly beautiful writingVandal Love delivers this and more in an epic tale of love, family, and country. I could not put it down, and when the journey finally ended, I refused to lend my copy and instead bought extras to spread the joy."
Loung Ung, author of Lucky Child and First They Killed My Father

Béchard's writing, at its strongest, flows in sonorous passages, evokes memorable landscapes, natural and urban, examines the enduring qualities of a family separated by both time and distance, and contains echoes of the magic realism of the South American master Gabriel García Márquez."
Winnipeg Free Press

Deni Y. Béchard surpasses Kerouac in his consciousness of the French as part of a larger people, how their struggle is socially and politically situated rather than strictly personal . . . Vandal Love seems like a trans-generational On the Road, which, also infused with a kind of inherited defeatism, was the perfect Americanized expression of an unexamined Existentialism, the ultimate Beat utterance."
The Globe and Mail

Although Vandal Love is a first novel, it reads as smoothly as if Béchard had a library to his name--mature, lyrical, tactile and at times simple, cruel and sweet. No doubt, the giant steps this young writer has taken will set him far ahead on his literary path."
Calgary Herald

Highly original, poetically charged, compelling, beautifully crafted, visceral, sonorous, visionary. . . . Béchard's prose, at once lyrical and tight, is mesmerizing, with resonances of Marquez, Faulkner, and Ondaatjeyet it is very much Béchard's own. Vandal Love is a saga of family and history, love and isolation, strength and vulnerability, suffering and redemption."
Off The Shelf, Boston Globe book blog

Praise for Vandal Love:
"An enormously impressive debut by a clearly gifted writer."
Robert Olen Butler, Pulitzer Prize-winning author of A Good Scent from a Strange Mountain