Ireland Unhinged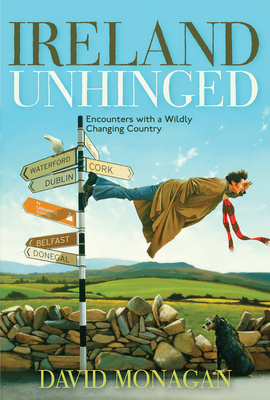 Ireland Unhinged
Encounters with a Wildly Changing Country
Council Oak Books, Hardcover, 9781571782526, 300pp.
Publication Date: March 17, 2011
* Individual store prices may vary.
Buy at Local Store
Enter your zip code below to purchase from an indie close to you.
or
Not Currently Available for Direct Purchase
Description
The boom-to-bust story of Ireland by the acclaimed author of Jaywalking with the IrishA recent economic miracle, Ireland nation has now suffered a catastrophic collapse. Yet mirth, soulfulness, and eccentricity still reign. In Ireland Unhinged, Connecticut-born David Monagan explores his adopted country through the eyes of a passionate transplant.Moving first to Cork City, the author and his family embrace Ireland's unpredictable nature. One day Monagan's serving as a bartender in a cathedral; the next he's attending a beard convention. Before you know it, he's befriended famous writers like the lonely J.P. Donleavy, author of the iconic Ginger Man, and an actor in Grade Z films.Still seeking the essence of Irish identity, Monagan moves his family to a country cottage on the banks of a majestic river, where he finds a timeless village universe. Hitting the road, the author encounters a white witch who still talks to fairies, eco-warriors, bog diggers, farmers, monks, an IRA killer, and brazen new Irish entrepreneurs galore. "What is Ireland? Has it lost its soul?" Monagan keeps asking as he roams from Cork to Dublin, Donegal and Belfast. His answers are singular, loving, searing, and often laugh-out-loud funny.Frank McCourt, author of Angela's Ashes, praised Monagan as the best non-fiction writer about Ireland today. The author re-earns that honor with the delightful travel memoir, Ireland Unhinged.
About the Author
David Monagan is a leading science writer who has covered advances in cardiovascular medicine for more than 25 years. His journalism has appeared in the "New York Times, "the "Boston Globe, Psychology Today, Discover Magazine," and "Forbes,"
An esteemed pioneer in his field, David O. Williams, M.D., is the Director of Interventional Cardiology and the Cardiac Catheterization Laboratories at Rhode Island Hospital and Professor of Medicine at Brown University.