Anxiety and Its Disorders, Second Edition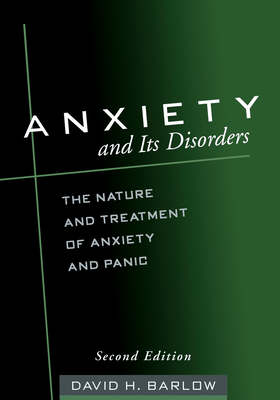 Anxiety and Its Disorders, Second Edition
The Nature and Treatment of Anxiety and Panic
Guilford Publications, Hardcover, 9781572304307, 704pp.
Publication Date: November 14, 2001
* Individual store prices may vary.
Not Currently Available for Direct Purchase
or
Shop Local
Enter your zip code below to purchase from an indie close to you.
Description
This landmark work is indispensable for anyone studying anxiety or seeking to deliver effective psychological and pharmacological treatments. David H. Barlow comprehensively examines the phenomena of anxiety and panic, their origins, and the roles that each plays in normal and pathological functioning. Chapters coauthored by Barlow with other leading experts then outline what is known about the classification, presentation, etiology, assessment, and treatment of each of the DSM-IV anxiety disorders. A definitive resource for researchers and clinicians, this is also an ideal text for graduate-level courses.
About the Author
David H. Barlow is an internationally recognized expert and leader in clinical psychology, having pioneered many treatments and investigations in anxiety and mood disorders. Currently Professor of Psychology and Psychiatry at Boston University, Dr. Barlow is also founder and Director Emeritus of the Center for Anxiety and Related Disorders, one of the largest research clinics of its kind in the world. Previously, he was distinguished professor at State University of New York at Albany. From 1975 to 1979, he was professor of psychiatry and psychology at Brown University, where he also founded the clinical psychology internship program. From 1969 to 1975, he was professor of psychiatry at the University of Mississippi, where he founded the Medical School psychology residency program. Dr. Barlow received his B.A. from the University of Notre Dame, his M.A. from Boston College, and his Ph.D. from the University of Vermont. He is the recipient of a Lifetime Achievement award from the American Psychological Association and is a fellow of the American Psychological Society.
Praise For Anxiety and Its Disorders, Second Edition…
"Like its predecessor, this book is truly an impressive accomplishment. Barlow, a world expert in the etiology and treatment of anxiety disorders, has integrated cutting-edge theory and research into a single presentation that is both wide in scope and precise in focus. While penetrating in its analysis, the book is also highly readable. Researchers, clinical practitioners, and students of all levels will find it an invaluable resource for understanding both the nature of anxiety as a human experience, and the way it manifests itself in specific disorders. Certain to become a classic." --Michael E. Addis, PhD, Department of Psychology, Clark University

"Barlow has once again produced a masterpiece. This volume combines comprehensive reviews of theory and research with innovative, clinically meaningful, empirically based models of each anxiety disorder. Like its predecessor, it will serve as the preeminent guide for research and treatment development for years to come. This book should be required reading for clinicians and clinical scientists working with anxiety disorders. Its clearly presented, readable content also makes it a highly appropriate text for advanced undergraduate and graduate-level psychopathology courses." --T. D. Borkovec, PhD, Department of Psychology, The Pennsylvania State University