Civilwarland in Bad Decline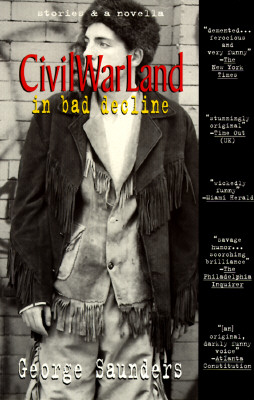 Civilwarland in Bad Decline
Riverhead Books, Paperback, 9781573225793, 192pp.
Publication Date: February 1, 1997
* Individual store prices may vary.
Buy at Local Store
Enter your zip code below to purchase from an indie close to you.
or
Not Currently Available for Direct Purchase
Description
From the "New York Times" bestselling author of "Tenth of December," a 2013 National Book Award Finalist for Fiction.
A "New York Times "Notable Book
"This book is a rare event: a brilliant new satirist bursting out of the gate in full stride, wildly funny, pure, generous all that a great humorist should be." Garrison Keillor
"An astoundingly tuned voice graceful, dark, authentic, and funny telling just the kinds of stories we need to get us through these times." Thomas Pynchon
"Scary, hilarious, and unforgettable . . . George Saunders is a writer of arresting brilliance and originality." Tobias Wolff
"A cool satirist and a wicked stylist. The quirkiest and most accomplished short-story debut since Barry Hannah's "Airships."" Jay McInerney, "The New York Times Book Review"
"Ingenious . . . full of savage humor and originality and] scorching brilliance . . . the author creates a nightmarish post-apocalyptic world that might have been envisioned by Walt Disney on acid." "The Philadelphia Inquirer"
"The debut of an exciting new voice in fiction. Mr. Saunders writes like the illegitimate offspring of Nathaniel] West and Kurt Vonnegut, perhaps a distant relative of Mark Leyner and Steven Wright. He's a savage satirist with a sentimental streak who delineates, in these pages, the dark underbelly of the American dream: the losses, delusions, and terrors suffered by the lonely, the disenfranchised, the downtrodden and the plain unlucky. . . . Bizarre events pop up regularly in "CivilWarLand" like road signs on a highway, directing the reader toward the dark heart of Mr. Saunders's America. What powers the stories along is Mr. Saunders's wonderfully demented language, his ear for absurdity and slang, his own patented blend of psychobabble, techno-talk and existential angst. Mr. Saunders's satiric vision of America is dark and demented; it is also ferocious and very funny." "The New York Times"
About the Author
George Saunders is the author of "Tenth of December";"In Persuasion Nation"; "The Brief and Frightening Reign of Phil"; "Pastoralia"; "CivilWarLand in Bad Decline"; "The Braindead Megaphone"; and a children's book, "The Very Persistent Gappers of Frip." His work appears regularly in the "New Yorker," "Harper's "and "GQ." In 2006, he was awarded a MacArthur Foundation "genius grant." In 2000, "The New Yorker "named him one of the "Best Writers Under 40." He is a 2013 National Book Award Finalist for Fiction. He teaches at Syracuse University."
Praise For Civilwarland in Bad Decline…
Praise for CivilWarLand in Bad Decline:

A New York Times Notable Book

"An astoundingly tuned voice—graceful, dark, authentic, and funny—telling just the kinds of stories we need to get us through these times."—Thomas Pynchon

"The dystopian short story is alive and kicking, wearing a black leather jacket—maybe stolen in a barroom brawl—and telling deadly dark, off-color jokes. His name is George Saunders, and he's half-huckster, half-saint; he's got shades of both Denis Johnson and Raymond Chandler.... By turns he's ferocious, witty, and uproarious, but what makes his fiction memorable is the gravitas of its dark portraiture of America."—The Boston Globe

"Ingenious...full of savage humor and originality [and] scorching brilliance...the author creates a nightmarish post-apocalyptic world that might have been envisioned by Walt Disney on acid."—The Philadelphia Inquirer

"Alarming and funny...Saunders invites comparison less to Aldous Huxley than to Kurt Vonnegut.... A debut of an original, darkly funny voice."—The Atlantic Journal-Constitution

"A savage satirist with a sentimental streak who delineates, in these pages, the dark underbelly of the American dream...Mr. Saunder's satiric vision of America is dark and demented; it is also ferocious and very funny."—Michiko Kakutani, The New York Times