In Praise of Indecency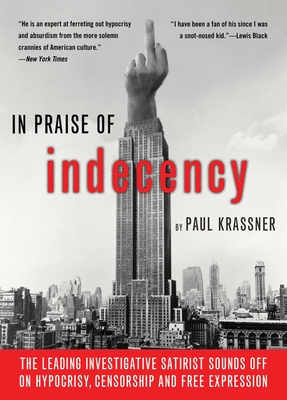 In Praise of Indecency
The Leading Investigative Satirist Sounds Off on Hypocrisy, Censorship and Free Expression
Cleis Press, Paperback, 9781573443500, 188pp.
Publication Date: May 19, 2009
* Individual store prices may vary.
Not Currently Available for Direct Purchase
or
Shop Local
Enter your zip code below to purchase from an indie close to you.
Description
Paul Krassner's style of personal journalism constantly blurs the line between observer and participant. Nowhere is this more apparent than this collection of essays and interviews culled from his columns at AVN Online. Whether being interviewed by Susie Bright, or imagining a conversation between Pee-Wee Herman and Pete Townshend about their busts by overzealous cops, or reminiscing about his friend Lenny Bruce, Krassner shines his keen satirical mind on the so-called taboos of today's society and breaks them down to show the hypocrisy of the world's "culture warriors." With a biting wit and tongue firmly planted in cheek, Mr. Krassner reveals the absurdity of our oppressive social mores in this stark, funny, and ultimately thought-provoking collection.
About the Author
Paul Krassner, born 1932, is an American author, journalist, comedian, editor, and a founding member of the Yippies. Krassner was a contributor to early issues of Mad magazine, and is the only person to win awards for both Playboy and the Feminist Party Media Workshop.