The Available Parent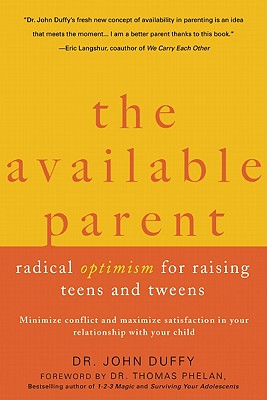 The Available Parent
Radical Optimism for Raising Teens and Tweens
Viva Editions, Paperback, 9781573446570, 151pp.
Publication Date: May 10, 2011
* Individual store prices may vary.
Buy at Local Store
Enter your zip code below to purchase from an indie close to you.
or
Not Currently Available for Direct Purchase
Description
*Number one on Cyrus Webb's list of "Books Every Man Should Read"
Teenagers are left feeling unheard and misunderstood, and parents are left feeling bewildered by the changes in their child at adolescence and their sudden lack of effectiveness as parents. The parent has become unavailable, the teen responds in kind, and a negative, often destructive cycle of communication begins. Well, the truth of the matter is, you can physically be right next to someone and still not really be available to them. If you need them to be something they're not, if you are harsh, criticizing and judging, if your anxiety is center stage, then you are not truly available.
The available parent of a teenager is open to discussion, offering advice and problem-solving, but not insisting on it. He allows his child to make some mistakes, setting limits, primarily where health and safety are concerned. He never lectures - he is available but not controlling. The available parent is self-aware, and keeps his own emotions in check when dealing with his teen. He is unconditionally loving and accepting, and open to new and different ways of thinking. As such, he is neither cruel nor dismissive, ever. The available parent is.
About the Author
Dr. John Duffy is a clinical psychologist and certified life coach with a thriving private practice in the Chicago area. He works with both teens and adults and specializes in helping parents maximize satisfaction and minimize conflict in their relationships with their teenagers. In addition to clinical work, Dr. Duffy also consults with individuals, groups, and corporations in a number of areas, including emotional intelligence, stress management, balancing work and family, conflict resolution, goal setting, and the power of thoughts in bringing about change. His highly satisfied clients include Sears, Allstate, General Electric, Household Financial, Exxon Mobil, Accenture, Bank of America, and Hewitt Associates. The Duffy family lives in Chicago.

Thomas W. Phelan, PhD, is a clinical psychologist and a nationally renowned expert on child discipline and attention deficit disorder. His other books include "1-2-3 Magic: Effective Discipline for Children 2-12,"" All About Attention Deficit Disorder,"" "and "Surviving Your Adolescents." He lives in Glen Ellyn, Illinois. Tracy M. Lewis, BA, is the family resource coordinator for a public school system and a family educator for the Commonwealth Parenting Center of Richmond, Virginia. She is also a former elementary school teacher and preschool director. She lives in Stony Creek, Virginia.
Praise For The Available Parent…
"...a healthy dose of optimism and lots of practical suggestions."
Publishers Weekly

"Every parent of a child or teen will benefit from keeping this wise book on their night stand. It's likely they will want it handy to read over and over again." Judy Ford, author of Every Day Love: The Delicate Art of Caring for Each Other and Wonderful Ways to Love a Child

"Dr. Duffy provides a clear, straightforward, doable answer for parents: Stay in touch! Research clearly shows that an open, friendly parent-teen relationship is a major factor in protecting kids from harm. The age-old question for parents of teens has always been: How do I relate to these new kids of minehow should I manage them?' The Available Parent provides a clear blueprint for a practical and effective response: Manage the problems you have to, but above all else, stay in touch!"
Dr. Thomas W. Phelan, author of 1-2-3 Magic and Surviving Your Adolescents

"Dr. John Duffy's fresh new concept of availability in parenting is an idea that meets the moment. With the pace of society constantly accelerating, we need The Available Parent now more than ever! Dr. John's writing is smart, approachable and right on the mark. His blend of practical ideas and colorful examples delivers great insights. Most importantly, I am a better parent thanks to this book."
Eric Langshur, Co-author of We Carry Each Other

"I couldn't put The Available Parent down because I found my inner voice kept saying "Yeah, that's right!" or "Oh, dang, I wish I had known that when my girls were teens." When I finished reading, I called my two daughters, now in their twenties, and asked them if my husband and I were Available Parents. They both reassured me that we were--and still are. John's a brilliant writer with keen intuition into how kids think and how parents can, sometimes unknowingly, sabotage their relationship. John has used his vast experience to provide parents with the inside dope into how kids view their lives, and what they really need from their parents to make the leap into becoming mentally healthy young adults. Best of all, John relays their amazing stories of growth in smooth, witty, and helpful prose. Any parent with a child--no matter what the age--should read and learn from this book.
Eileen Norris, contributing writer and editor of the bestselling You: The Smart Patient by Drs. Mehmet Oz and Mike Roizen

"What a true gift. This outstanding book truly gives you a blueprint to fully be available to your teen son or daughter. You will marvel at your teen's sense of competence, can-do attitude, and improved self-esteem. Teens and parents are both resilient; with the tools provided in the remarkable book The Available Parent, you and your teenager can both enjoy your new and improve relationship."
Dr. Kate Smart Mursau, co-author of Smart Parenting: How to Raise Happy, Can-Do Kids

"Every parent who wants to give it their best shot in working with, and not in opposition to, their teen, needs to check in with Dr. John Duffy, and apply his "available parent" strategy. As a professional journalist, author, and mom of three teens who writes about parenting, I was so glad to have found Dr. Duffy in time to give me the tools to quickly understand what it means to be an available parent. To my surprise and delight, as I intentionally make myself more available as a mom, my teens are now purposefully reaching out to engage with me! Dr. Duffy is a trusted guide and cool guy. He truly cares and is all about helping parents and their children find the bright light in each other. He helped to open a whole new channel of communication for me with my teens, and allowed me to appreciate their uniqueness and focus on that, instead of the moments that "challenge."
Mary Beth Sammons, author of Second Acts That Change Lives: Making a Difference in the World

"John Duffy has written one of the most eye-opening parenting books around, an inspiring, important tool for all parents. From his expertise and experience working with teens, John gives us the key ingredient for a healthy, successful parent-teen relationship. being The Available Parent. What a simple yet profound title, and what a rude awakening for me! John masterfully defines available parenting and helps parents stop the unhealthy dance with their kids. He gives excellent insight, advice and approaches to become the effective parent we desire to be. And throughout the book, he uses real life excerpts from teens discussing their issues so parents can understand what is really going on in their world. This is a must-read and is essential to building a healthy relationship with your teen."
Megan Walls, CEC, ACC, Founder, Conscious Connections Coaching

"The Available Parent is a valuable and thought-provoking resource that's filled with many precious lessons and gives parents a unique perspective on cultivating a healthy relationship with their kids."
Psych Central