The Ultimate Guide to Orgasm for Women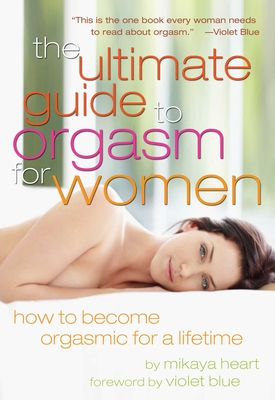 The Ultimate Guide to Orgasm for Women
How to Become Orgasmic for a Lifetime
Cleis Press, Paperback, 9781573447119, 249pp.
Publication Date: August 2, 2011
* Individual store prices may vary.
Buy at Local Store
Enter your zip code below to purchase from an indie close to you.
or
Buy Here
Description
Owning our desires should be neither embarrassing nor uncomfortable. Nor should they be subject to anyone else's moral judgment of what is right or wrong, good or bad, normal or abnormal. Combining communication and information is the key. By shrugging off the taboos against talking about our preferences and experiences when we're being sexual, we will take the first and most important steps toward ensuring our own fulfillment. The Ultimate Guide to Orgasm for Women is an unflinchingly honest, responsible, and thoroughly comprehensive exploration of female sexuality. Topics include: The physical types of orgasm, such as electrical, flying, pounding, deep, waves, and blips; orgasm as an emotional release; the "elusive orgasm" and why some women have difficulty having one; how often we fake them and why; masturbation; multiple orgasms; the male-female dichotomy; penetration and the G-spot; defining the erotic; and the joy of sex toys.
About the Author
Mikaya Heart came out as a lesbian in the seventies, then left the UK in the eighties and moved to rural northern California, where she ran an organic market garden and built several houses out of recycled lumber which she gathered herself. Still committed to changing the world, she is now a spiritual mentor and leads shamanic journeys to help people access their true potential. She is a very keen kitesurfer--that dance with water and wind is deeply refreshing and helps her to tolerate the insanity of daily life. Her greatest joy is being alone in the wilderness. www.mikayaheart.org Dave White lived in the Railway Street community from its first day until 1985. After leaving, he became manager of a rock band in Newcastle for two years. Having dropped out of college in 1973, he went back to study history at Edinburgh University in 1990, completing a PhD on Nazi ideology in 1999. Subsequently he spent nine god-awful years working in the belly of the financial beast at Scottish Widows. Now he lives contentedly in the Scottish Borders with partner and dog, writing history articles and creating a glorious garden.

Violet Blue is an investigative tech reporter at ZDNet, Zero Day, CNET, and CBS News, as well as an award-winning sex writer and columnist. Blue is a well-known public pundit on privacy activism and bleeding-edge tech culture. She is a member of the Internet Press Guild and the Center for Investigative Reporting, as well as an advisor at Without My Consent. She was the first female podcaster and currently maintains a thirteen-year-old sexuality blog at tinynibbles.com. She is the author of over 40 books and anthologies.
Praise For The Ultimate Guide to Orgasm for Women…
"Here's a book every woman should have on her bookshelf. Or nightstand."
Entertainment Realm

"This guide shows women how to ask for what they need and embrace their complexity, with discussion of multiple orgasms, how personal history shapes sexual experience and the power of fantasy."
AVN

"This book has a lot to offer the woman who wants to understand and explore deeper into her erotic experience."
The Dinah Project

"I think this book is a great place to start for women who are looking to improve their sex life, whether they already have orgasms or not."
Buzz on Vibes

"I enjoyed this book wholeheartedly, and I think it will help a lot of women. In this book you will find new ideas about orgasm and why you may not be so different in your ways at all."
Kissin Blue Karen

"The author, Mikaya Heart, definitely tried to cover a plethora of information and did a fabulous job of presenting things with an attitude of open acceptance. So many women don't discuss many of the personal and intimate details of our sexual selves. This book helped me to recognize that I wasn't alone in some of the things I have personally experienced. It also helped me understand why some women don't appreciate sex as much as others. One of the most important things that I am taking away from this book is that we must express our desires and needs. If we do not voice our needs and ask for what want in a loving but direct way we are preventing ourselves from enjoying one of the most pleasurable things our bodies, minds and spirit can experience."
Romancing the Book

"This book as a whole is an engaging mixture of practical advice and spiritual (in a broad sense) discussion."
Kissed By Venus

"The book... offer[s] freedom to self-define what a healthy sexuality means for each of us, as individuals, without necessarily referencing a "norm." Is it worth buying? Absolutely!"
Fresh Fiction

"Chapters cover anatomy and general techniques; the physical, energetic," and spiritual experience of orgasm; variations and problems; youthful experiences; relationship contexts; and concerns relating to penetration, the G-spot, female ejaculation, fisting, and anal sex. Several good anatomy drawings, numerous referrals to appropriate other books, a safer-sex appendix, and a comprehensive resource list round out the work. VERDICT Designed for women misled by notions of one right way to orgasm," Heart's guide should provide something useful for nearly all self-helper women at any stage of sexual growth and of any sexual orientation. And while more illustrations would have been nice, the book's relatively modest appearance could be a plus for some challenge-shy librarians. Recommended."
Library Journal Martha Cornog, Philadelphia

"By diving so deeply into the types of issues that plague many women, Heart is able to show readers that they're not alone if they have trouble getting pleasure, and for those that don't, the author brings them to another level. By gaining an understanding of their emotional lives, personal histories, and belief systems, women can better know what works, what doesn't, and why. Heart is an exceptional guide, and this comprehensive exploration of female sexuality is likely to become a well-used map to discovering new mountaintops in a familiar land."
Foreword Magazine

"Mikaya Heart's Ultimate Guide to Orgasm for Women, will help women to release old taboos and fears so they can embrace sexual confidence and enjoy a fuller sex life. A must-read for any woman who wants to expand her vocabulary of sex."
Betty A. Dodson, PhD, author of Sex for One

"Mikaya Heart provides a fresh and illuminating look at that most elusive and tantalizing of
targets, the female orgasm. There are nearly as many varieties of orgasm
as there are women, and this book will open your eyes to possibilities
you never imagined."
Janet W. Hardy, co-author of The Ethical Slut: A
Practical Guide to Polyamory, Open Relationships & Other Adventure