The Complete Tales of Lucy Gold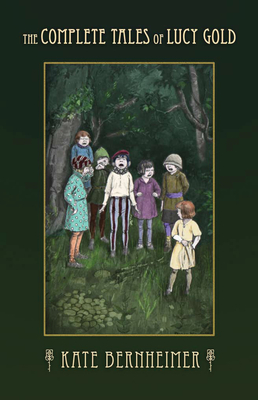 The Complete Tales of Lucy Gold
F2c, Paperback, 9781573661591, 117pp.
Publication Date: March 7, 2011
* Individual store prices may vary.
Buy at Local Store
Enter your zip code below to purchase from an indie close to you.
or
Buy Here
Description
As a child, Lucy dreams of talking fairies and lives contentedly in the wooded suburbs of Boston; she grows up to be a successful animator of fairy-tale films. Or does she? She claims at moments to be a witch in the woods.Like her sisters, who appeared in Bernheimer's first two novels "(The Complete Tales of Ketzia Gold" and "The Complete Tales of Merry Gold), " Lucy has a secret, but she is unable to fasten onto anything but brightness. Novelist Donna Tartt writes, Lucy's particular brand of optimism, blind to its own shadow, is very American she is innocence holding itself apart so fastidiously that it becomes its opposite. This novel is a perfect end to the Gold family series, and the perfect introduction, for new readers, to Bernheimer's enchanting body of work.
About the Author
Kate Bernheimer has written novels for adults, and is the editor of the literary journal Fairy Tale Review. She is an assistant professor of creative writing in the MFA program at the University of Alabama, Tuscaloosa. She lives in Tuscaloosa, Alabama, with her husband and daughter.
Nicoletta Cecolli is the illustrator of many acclaimed picture books published around the world, including "The Barefoot Book of Fairy Tales," retold by Malachy Doyle. She lives in San Marino, Italy.
"From the Hardcover edition."
Praise For The Complete Tales of Lucy Gold…
"Each of Kate Bernheimer's marvelous books is precious, strange, and impossible to anticipate—an oyster concealing a tiger's eye or a child's game of doll tea staged by Hieronymous Bosch. Like her sisters Merry and Ketzia, Lucy serves up a darkly delicious bottle of Drink Me."—Rikki Ducornet, author of Gazelle

"With The Complete Tales of Lucy Gold, Kate Bernheimer brings to a close one of my favorite fictional projects of the last decade. Each slim volume of her trilogy is like one of those storybook houses that is much bigger on the inside than it is on the outside, and within each house is a family, and within each family is a girl, and that girl just might be you. I love these books, every sharp, secret, entrancing page of them.—Kevin Brockmeier, author of The Brief History of the Dead

"It is Kate Bernheimer's formidable act of sorcery to take the fairy tale—that most ancient of forms—and turn it into something so brand-new . . . there isn't even a name yet for what she's doing. Reading The Complete Tales of Lucy Gold, I felt part of myself restored to that condition of innocence I'd felt as a child, rapt, turning the pages, wondering what will happen next, reading a fairy tale. Of course, as Lucy herself proves and as Kate Bernheimer is harrowingly aware, the condition is impossible—there is no innocent magic." —Kathryn Davis, author of The Walking Tour