Sold to the Highest Bidder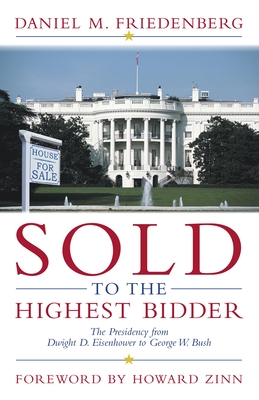 Sold to the Highest Bidder
The Presidency from Dwight D. Eisenhower to George W. Bush
Prometheus Books, Hardcover, 9781573929233, 352pp.
Publication Date: January 1, 2002
* Individual store prices may vary.
Buy at Local Store
Enter your zip code below to purchase from an indie close to you.
or
Not Currently Available for Direct Purchase
Description
"This is a glorious America for the alert and resourceful," notes Daniel Friedenberg in this critical review of the American presidency during the last half of the 20th century. But he cautions, "This is an unhappy America for the disadvantaged, the weak in body or mind, and those born without close family ties."

The disparity between rich and poor in our immensely wealthy nation and the corrupting influence of money on politics to the advantage of the few over the many form the heart of his critique. Friedenberg emphasizes that the New Deal concern for the underdog - the major social achievement of the first half of the 20th century - has been gradually abandoned by presidents in the latter half of the century, along with tax policies that shifted wealth from the well-to-do to the less privileged. Though paying lip service to democracy, in fact recent presidents have upheld a system designed to maximize the influence of a powerful elite, "a flexible plutocracy," as Friedenberg describes it. This has good and bad aspects. On the one hand, the innovations launched by powerful business leaders, such as Henry Ford, Thomas J. Watson (IBM), and Bill Gates (Microsoft), have resulted in millions of new jobs and advanced the overall prosperity of the nation. On the other hand, the system does little to help the poor rise to a higher level, and it has kept the middle class stagnating for the last thirty years. The effect of presidential policies is a divide between the haves and have-nots that today is every bit as stark as it was before the Great Depression.

Friedenberg pleads for a new focus on improved education for all to narrow the widening gap between rich and poor, instead of the current folly of building gated communities for the wealthy and ever-more prisons for the law-breaking underprivileged. The vast technological resources unleashed by the computer revolution can and should be used to create a more equitable American future.
About the Author
Daniel M. Friedenberg is the president of John-Platt Enterprises. A recipient of the Heath Literary Award for Distinguished Numismatic Achievement, he is the former curator of coins and medals for the Jewish Museum, New York, and his books include Great Jewish Portraits in Metal and Medieval Jewish Seals from Europe.

Howard Zinn (1922-2010) was a historian, playwright, and social activist. His many books include A People's History of the United States, which has sold more than two million copies.