Real Kids, Real Stories, Real Change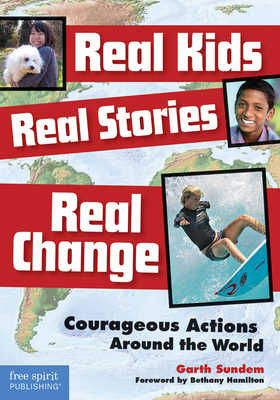 Real Kids, Real Stories, Real Change
Courageous Actions Around the World
Free Spirit Publishing, Paperback, 9781575423500, 165pp.
Publication Date: February 1, 2010
* Individual store prices may vary.
Not Currently Available for Direct Purchase
or
Shop Local
Enter your zip code below to purchase from an indie close to you.
Description
Eleven-year-old Tilly saved lives in Thailand by warning people that a tsunami was coming. Fifteen-year-old Malika fought against segregation in her Alabama town. Ten-year-old Jean-Dominic won a battle against pesticides and the cancer they caused in his body. Six-year-old Ryan raised $800,000 to drill water wells in Africa. And twelve-year-old Haruka invented a new environmentally friendly way to scoop dog poop. With the right role models, any child can be a hero. Thirty true stories profile kids who used their heads, their hearts, their courage, and sometimes their stubbornness to help others and do extraordinary things. As young readers meet these boys and girls from around the world, they may wonder, What kind of hero lives inside of me?
About the Author
Garth Sundem is an educational consultant and curriculum writer. A former language arts and music teacher, Mr. Sundem has published more than 15 books, primarily on the subjects of literacy and social studies. A graduate of Cornell University, he earned a Masters Degree in Music Theory and Composition. He presents at local and national education conferences and facilitates in-service trainings across the U.S.

Bethany Hamilton: Bethany has become a source of inspiration to millions through her story of determination, faith and hope. In 2003, Bethany lost her left arm while surfing to a 14-foot tiger shark. Rather than let her career as a rising surf star come crashing down, Bethany miraculously returned to the water one month after the attack, a year later won her first National title, and has since realized her dream of surfing professionally. Her unbelievably positive attitude fascinated the world, and her story has been told in an autobiography and later adapted to the 2011 film, Soul Surfer. Bethany and her husband, Adam Dirks, are involved in many charitable efforts, including Friends of Bethany, which she and her family created to help shark attack survivors, traumatic amputees, and serves to inspire others through her life story. Now as a professional surfer, motivational speaker, and healthy lifestyle advocate, Bethany continues to touch and inspire lives globally.
Praise For Real Kids, Real Stories, Real Change…
"Sit back and enjoy these 30 incredible human interest stories all about children who have faced extraordinary odds and accomplished near miracles."—Skipping Stones Magazine
"A one-of-a-kind book that uses real-life examples to teach young people everywhere that they can make a positive difference."—Midwest Book Review
"Fabulous! This book is exciting, inspirational, and best of all, completely true!"—T.A. Barron, author of The Hero's Trail
 "[T]hese true stories of children making significant change in their communities and countries will convince your students that one person can make a difference. The short chapters, which make excellent read alouds, tell of an eight-year-old who walked hundreds of miles to protest rain forest destruction in Mexico, a child with cancer who petitioned to stop the use of pesticides in Canada, and a young Taiwanese girl who fought for workers' rights."—Curriculum Connections
"A one-of-a-kind book that uses real-life examples to teach young people everywhere that they can make a positive difference."—Midwest Book Review
(Review for previous title, The Doggy Dung Disaster & Other True Stories)
(Review for previous title, The Doggy Dung Disaster & Other True Stories)
"This collection of tales about real kids doing amazing things is inspiring." —Washington Post
(Review for previous title, The Doggy Dung Disaster & Other True Stories)
"Real Kids, Real Stories, Real Change: Courageous Actions Around the World is an inspirational compendium that profiles thirty different real kids from around the world who used their skills and abilities to make a real difference, improving the world. Divided into five chapters, Real Kids, Real Stories, Real Change presents stories of kids saving the environment, kids standing up for themselves, kids helping others, kids overcoming challenges, and kids using talents and creativity. Examples include a painter of monkeys from China, a girl from India who climbs mountains, a boy in the USA who protects the habitat of endangered turtles, an orphan boy from Romania who champions the cause of other children who are orphaned and alone, an art prodigy from Japan who uses drawings to help heal the world, and more. Real Kids, Real Stories, Real Change is the perfect example of the saying, "A brave heart if a powerful weapon (Rudy Garcia-Tolson, p. 123). Real Kids, Real Stories, Real Change is written at reading level grade 5, and will have appeal for students ages 9–13."—Midwest Book Review: Children's Bookwatch: Reviewer's Choice