The World Cafa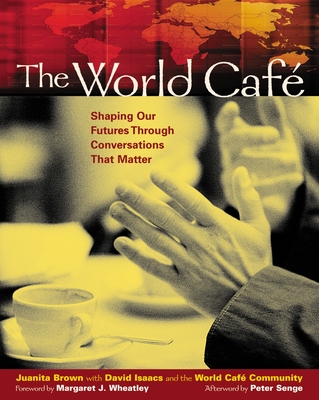 The World Cafa
Shaping Our Futures Through Conversations That Matter
Berrett-Koehler Publishers, Paperback, 9781576752586, 300pp.
Publication Date: May 1, 2005
* Individual store prices may vary.
Buy at Local Store
Enter your zip code below to purchase from an indie close to you.
or
Buy Here
Description
The World Cafe process has been used by tens of thousands of people around the world to tackle real-life issues. Based on seven key principles, it begins with small, intimate conversations at cafe -style tables; these gatherings then link and build on each other as people move between groups and cross-pollinate ideas. In this way, Cafe learning enables even very large groups to think together creatively in a single, connected conversation. This complete resource explains the Cafe concept and provides readers with the tools they need to get started. Each chapter opens with stories from business, education, government, and community organizations, each a dramatic example of how leaders are using this process in the real world. Such stories underline the Cafe 's immediate, practical implications for meeting and conference design, strategy formation, knowledge creation, and large-scale systems change. The book includes a foreword by best-selling author Margaret J. Wheatley, an afterword by author Peter Senge, and real-world stories of the Cafe process in action at Hewlett-Packard, the nation of Singapore, and the University of Texas.
About the Author
David Isaacs is in the Department of Education and Immunology and Infectious Diseases at The Children's Hopsital at Westmead, NSW. He is a Clinical Professor in the Department of Paediatrics and Child Health, University of Sydney, NSW.
Margaret Wheatley is a co-founder of the Berkana Institute and author of the best-selling books, "Leadership and the New Science and "A Simpler Way.
Robert Tannenbaum was a founder of the field of organization development. He was affiliated with such organizations as NTL Institute for Applied Behavioral Science, the University of California, and the Organization Development Network.
Paula Yardley Griffin is a consultant, author, and editor. Since 1997 she has been the editor of the newsletter, "Consulting Today.
Kristine Quade is a consultant with Quantum Change Associates, editor for the Pfeiffer Practicing OD Series, and coauthor of "The Conscious Consultant from Pfeiffer.
The Organization Development Network (OD NETWORK) is a vital learning community that develops, supports, and inspires practitioners and enhances the body of knowledge in human organization and systems development.