Eat That Frog!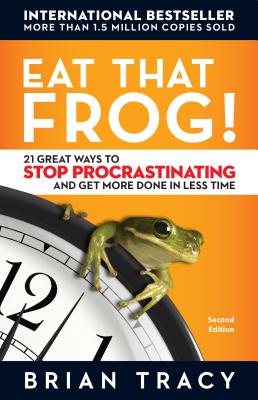 Eat That Frog!
21 Great Ways to Stop Procrastinating and Get More Done in Less Time
Berrett-Koehler Publishers, Paperback, 9781576754221, 128pp.
Publication Date: January 2007
* Individual store prices may vary.
Buy Now
or
Shop Local
Enter your zip code below to purchase from an indie close to you.
Description
NEW EDITION, REVISED AND UPDATED
There just isn't enough time for everything on our "To Do" list and there never will be. Successful people don't try to do everything. They learn to focus on the most important tasks and make sure they get done.
There's an old saying that if the first thing you do each morning is to eat a live frog, you'll have the satisfaction of knowing that it's probably the worst thing you'll do all day. Using eat that frog as a metaphor for tackling the most challenging task of your day the one you are most likely to procrastinate on, but also probably the one that can have the greatest positive impact on your life Eat That Frog shows you how to zero in on these critical tasks and organize your day. You'll not only get more done faster, but get the right things done.
Bestselling author Brian Tracy cuts to the core of what is vital to effective time management: decision, discipline, and determination. In this fully revised and updated second edition, he provides brand new information on how to keep technology from dominating your time. He details twenty-one practical and doable steps that will help you stop procrastinating and get more of the important tasks done today

About the Author
Brian Tracy is the chairman of Brian Tracy International, a human resources development company headquartered in Solana Beach, California. He has written seventy books and produced more than eight hundred audio and video training programs. His materials have been translated into forty languages and used in sixty-four countries. One of the top professional speakers and trainers in the world today, Brian addresses more than 250,000 men and women each year on the subjects of leadership, strategy, sales, and personal and business success. He has given more than five thousand talks and seminars to five million people worldwide, bringing a unique blend of humor, insight, information, and inspiration.