Flesh Life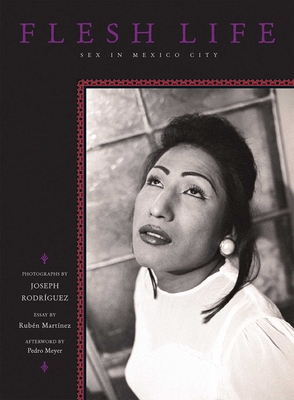 Flesh Life
Sex in Mexico City
powerHouse Books, Hardcover, 9781576873106, 96pp.
Publication Date: September 1, 2006
* Individual store prices may vary.
Not Currently Available for Direct Purchase
or
Shop Local
Enter your zip code below to purchase from an indie close to you.
Description
"Spirit, flesh: in the end the same quest, born of a crumbling economy and identity. The single most apparent sign is the proliferation in prostitution, an 'outing' of what has always existed, but furtively. The government has officially admitted that it is impossible to rein in the sex trade; Mexico City is not busy busting working women and men, but formulating legal and health guidelines for sex-workers."
—Rubén Martínez

From Nezahualcoyotl, the largest working-class suburb on earth, to La Condesa, Mexico City's hipster hangout, putas and putos stroll the streets, cruising for johns and surviving on their wit, born out of true desperation. These men, women, and everyone in-between are sex-workers in a country where extramarital sex is considered a mortal sin, and, confoundingly, where they ply their trade without official reprisal. In Mexico, macho husbands consort with other men, and virgencitas are anything but. Joseph Rodríguez and Rubén Martínez confront these contradictions head-on in Flesh Life: Sex in Mexico City.

In Rodríguez's series of startlingly intimate black-and-white photographs and Martínez' gripping text, we encounter a re-sexualized and re-spiritualized country in flux, embracing religious dogma while discarding taboos that once shrouded sex in a haze of artifice, euphemism, and history. Rodríguez's beautiful and brutally honest images suggest a culture in which spirit and flesh have always been inextricably intertwined.
About the Author
Internationally recognized photographer Joseph Rodriguez was born and raised in Brooklyn, New York. His work has appeared in such publications as The New York Times Magazine, National Geographic, GQ, Newsweek, Esquire, and Der Spiegel. He has received awards and grants from the Open Society Institute, National Endowment for the Arts, Rockefeller Foundation, and New York State Foundation for the Arts. He was awarded Picture of the Year by the National Press Photographers Association in 1990, 1992, 1996, and 2002. His previous books include Juvenile (powerHouse Books, 2004). The New Americans (New Press, 2004), East Side Stories: Gang Life in East L.A. (powerHouse Books, 1998). Spanish Harlem (National Museum of American Art, 1995), and Respekt: Gangs and their World in Los Angeles (DN Bokforiaget, 1997). His work has been widely exhibited, domestically and internationally. Rodriguez teaches at New York University and the International Center of Photography.

Trisha Ziff has curated exhibits throughout Europe, the United States, and Mexico, including, "Revolution and Commerce: The Legacy of Korda's Portrait of Che Guevara." She is a Guggenheim scholar and is currently completing her Ph.D. at the Metropolitan University of London.

Veteran photographer Pedro Meyer has had 125 exhibitions, published three highly acclaimed books, and produced several seminal CD-ROMs during his 40-year career. He is the curator and creator of the highly regarded ZoneZero Web site, a community and gallery for photographers from around the world.