The Brooklynites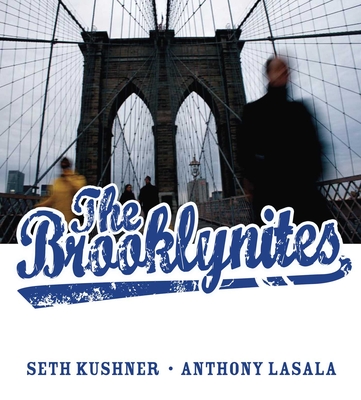 The Brooklynites
powerHouse Books, Hardcover, 9781576873984, 157pp.
Publication Date: July 1, 2007
* Individual store prices may vary.
Buy at Local Store
Enter your zip code below to purchase from an indie close to you.
or
Not Currently Available for Direct Purchase
Description
"Brooklyn is the conscience of New York. While Manhattan tears everything down and changes everything, Brooklyn does a similar thing, but fails miserably at it. It is a crazy quilt of a place. A mongrel place of sorts. It mixes old and modern in a haphazard way. It represents a tiny microcosm of the world—functional utopia."
—Jonathan Lethem


A complex and quixotic urban animal found ranging across southeast New York City, the Brooklynite has obtained a sort of mythological status, representing the "you tawkin' to me?" attitude for which the city is world-renowned. For over three years, writer Anthony LaSala and photographer Seth Kushner trekked tirelessly across the borough, documenting these charismatic characters in The Brooklynites, a collection of images, interviews, and essays.

Kushner and LaSala, native Brooklynites themselves, sought out the famous and the nameless, current residents and former inhabitants, providing a profoundly comprehensive portrait of both the metropolis and its denizens. Featuring the likes of Paul Auster, Spike Lee, Steve Buscemi, Rosie Perez, Sufjan Stevens, John Turturro, Casey Spooner, Steve Schirripa, Matisyahu, and Jonathan Lethem—as well as local heroes—The Brooklynites features figures from the widely diverse neighborhoods of the city's most populous borough: Brooklyn Heights, Bay Ridge, Bedford-Stuyvesant, Bensonhurst, Boerum Hill, Brighton Beach, Brownsville, Bushwick, Canarsie, Carroll Gardens, Clinton Hill, Coney Island, DUMBO, Dyker Heights, East New York, Flatbush, Flatlands, Fort Greene, Gowanus, Gravesend, Greenpoint, Manhattan Beach, Marine Park, Midwood, Mill Basin, Park Slope, Prospect Heights, Red Hook, Sheepshead Bay, Sunset Park, and Williamsburg.

With a population of 2.5 million people, Brooklyn is one of the most celebrated locales in all the world. Its landmarks (The Brooklyn Bridge, Greenwood Cemetery), renowned neighborhoods (Coney Island, Park Slope), history (The Brooklyn Dodgers) and institutions (Brooklyn Academy of Music, Prospect Park) are recognized in every corner of the globe while its stories and legends have been recounted in hundreds of famous novels (A Tree Grows in Brooklyn, Motherless Brooklyn, Last Exit to Brooklyn), television shows (The Cosby Show), theater productions (BKLYN the musical) and films (Saturday Night Fever, Crooklyn). The Brooklynites gives readers an all-inclusive tour of the "home to everyone from everywhere": Brooklyn, New York.
About the Author
Seth Kushner is a freelance photographer and works for a large variety of clients including "The New York Times Magazine, Time, Newsweek, Vibe, YRB, " and "Business 2.0." Kushner was chosen by "Photo District News" as one of their "30 Under 30" in 1999 and was a winner in their Photo Annual Competition in 2002 and 2006. Kushner's work is syndicated by "Retna LTD." He lives and works in Brooklyn.

Anthony LaSala is a senior editor at "Photo District News" and has freelanced for a host of other publications, including "Time Out New York, Billboard, Yankee Magazine, Sights, " and "TV Guide." LaSala also edited the book "The World's Top Photographers: Nudes" (Rotovision, 2007). LaSala was nominated as photo editor of the year by the International Photography Awards in 2003 and 2004. He is curator at the Alice Austen House in Staten Island, NY, and lives and works in Brooklyn.

Brooklyn native Terence Winter is a writer and executive producer of "The Sopranos" and has won a Writers Guild Award, the Edgar Award, and two Emmy Awards. Before "The Sopranos," Winter wrote and produced an eclectic group of shows including "Xena: Warrior Princess" and "Soldier of Fortune." His first feature film was "Get Rich or Die Tryin'" and "Brooklyn Rules" was recently released in early 2007.

"It's funny, everyone outside of Brooklyn thinks you are either part of the mob or a tough guy. I was down in Virginia on vacation recently and someone asked me to say something in Brooklynese. So I said, 'Give me your wallet.'"

--Dick Velde