Still Here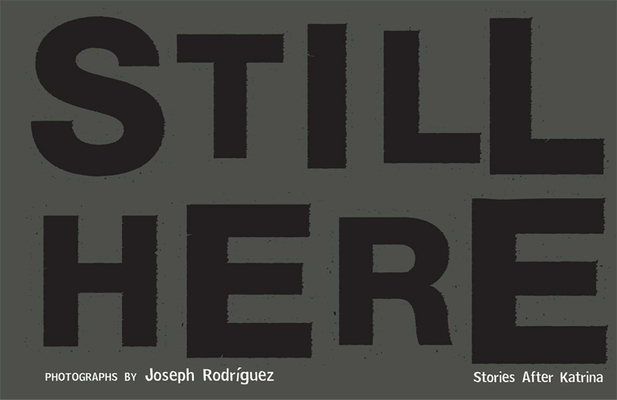 Still Here
Stories After Katrina
powerHouse Books, Hardcover, 9781576874608, 140pp.
Publication Date: September 9, 2008
* Individual store prices may vary.
Not Currently Available for Direct Purchase
or
Shop Local
Enter your zip code below to purchase from an indie close to you.
Description
Hurricane Katrina was the most costly natural disaster in the history of the United States. The Category 1 hurricane, which landed August 29, 2005 in the Gulf Coast region, caused 81.2 billion dollars in property damage, killed 1,836 people, and permanently displaced hundreds of thousands more. In the weeks following the disaster the international media criticized the failure of federal, state, and local governments to act competently and swiftly to restore order and assist victims, as well as the faulty infrastructure that had allowed the storm to effect such severe destruction. On-the-ground reporting also revealed that tens of thousands of impoverished people—nearly all of whom were African- American—were enduring conditions of extreme squalor, with seeming indifference from the government. Beyond the economic costs, vast emotional and psychological traumas continue to plague the communities affected by the disaster. 

Still Here, the fourth powerHouse Book by photographer Joseph Rodríguez, documents the ongoing expressions of hope, perseverance, and suffering in the still-devastated communities of New Orleans and Texas. Rodríguez spent two years photographing and interviewing families and individuals who shared their daily struggles to rebuild their lives. 

Like the photographers who worked with the Farm Security Administration during the Great Depression in the 1930s, Rodríguez's work alerts Americans to the ongoing pressures faced by some of the country's most distressed and vulnerable citizens. Nearly three years since the mass exodus that followed Hurricane Katrina, well over 100,000 people have not returned to New Orleans. These black-and- white portraits of the displaced, and of others who have returned to the city despite spiraling crime rates and desperate poverty, remind us that in spite of the loss of home, community, and culture, so many are pushing forward, and are "still here."
About the Author
Internationally recognized photographer Joseph Rodriguez was born and raised in Brooklyn, New York. His work has appeared in such publications as The New York Times Magazine, National Geographic, GQ, Newsweek, Esquire, and Der Spiegel. He has received awards and grants from the Open Society Institute, National Endowment for the Arts, Rockefeller Foundation, and New York State Foundation for the Arts. He was awarded Picture of the Year by the National Press Photographers Association in 1990, 1992, 1996, and 2002. His previous books include Juvenile (powerHouse Books, 2004). The New Americans (New Press, 2004), East Side Stories: Gang Life in East L.A. (powerHouse Books, 1998). Spanish Harlem (National Museum of American Art, 1995), and Respekt: Gangs and their World in Los Angeles (DN Bokforiaget, 1997). His work has been widely exhibited, domestically and internationally. Rodriguez teaches at New York University and the International Center of Photography.