Dignity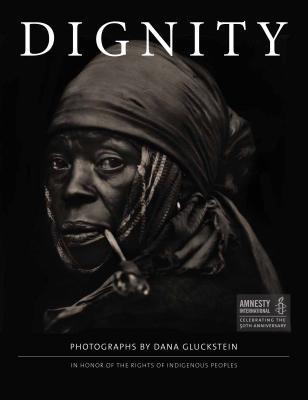 Dignity
In Honor of the Rights of Indigenous Peoples
powerHouse Books, Hardcover, 9781576875629, 143pp.
Publication Date: November 9, 2010
* Individual store prices may vary.
Buy at Local Store
Enter your zip code below to purchase from an indie close to you.
or
Not Currently Available for Direct Purchase
Description
DIGNITY, a collection of iconic photographs by Dana Gluckstein, honors Indigenous Peoples worldwide and celebrates the 50th Anniversary in 2011 of Amnesty International, the Nobel Peace Prize-winning human rights organization. With over ninety exquisite black-and-white portraits spanning three decades, this richly printed coffee table gift book succeeds in distilling the universality of experience that links us all yet never sacrifices the dignity of the individual. Whether photographing a Haitian healer or a San Bushmen chief, Gluckstein infuses each portrait with an essential human grace.
-The Indigenous Peoples of the world have a gift to give that the world needs desperately, this reminder that we are made for harmony, for interdependence. If we are ever to prosper, it will only be together.... The work of Dana Gluckstein helps us to truly see, not just appearances, but essences, to see as God sees us, not just the physical form, but also the luminous soul that shines through us.- --Archbishop Desmond Tutu, DIGNITY

DIGNITY'S power, artistry, and impassioned call to action make it a historic book in support of Indigenous Peoples who are among the world's most impoverished and oppressed inhabitants. The inspirational text is intended to give a fuller awareness of the United Nations Declaration on the Rights of Indigenous Peoples adopted in 2007 by 144 countries. The declaration is the most comprehensive global statement of the measures every government needs to enact to ensure the survival, dignity, and well-being of the Indigenous Peoples of the world. DIGNITY includes the full text of the declaration. Gluckstein's striking portraits illuminate this vision.
-The dispassionate remove common to most modern portraits is all but absent in these images; in its stead is a passionate complicity between artist and sitter that allows each subject to be memorialized with both beauty and grace.- --The late Robert A. Sobieszek, Curator, Department of Photography, Los Angeles County Museum of Art.
About the Author
Dana Gluckstein has photographed iconic figures including Nelson Mandela, Mikhail Gorbachev, and Muhammad Ali, and produced award-winning advertising campaigns for clients such as Apple and Toyota. Her portraits of Indigenous Peoples are held in the permanent collections of the Los Angeles County Museum of Art and the Santa Barbara Museum of Art. Gluckstein graduated from Stanford University, where she first fell in love with light and realized the power of images to shape consciousness. She lives in Los Angeles with her husband and two children. Archbishop Desmond Tutu received the Nobel Peace Prize in 1984 for his nonviolent resistance to apartheid. As an Anglican priest, he served as General Secretary of the South African Council of Churches and Archbishop of Cape Town. In 1995, President Mandela appointed him chairman of South Africa's Truth and Reconciliation Commission where he brought to light the atrocities of apartheid. In 2009, he received the Presidential Medal of Freedom, the United States' highest civilian honor. He now serves as Chair of The Elders, a group of eminent global leaders working to support peace and address causes of human suffering. Faithkeeper Oren R. Lyons, Turtle Clan, Onondaga Nation, co-founded the Working Group on Indigenous Populations for the United Nations in 1982, and helped develop the United Nations Declaration on the Rights of Indigenous Peoples. As a revered Native American elder and scholar, he has sat on the Council of Chiefs of the Six Nations in New York since 1967 and taught Native American studies for 37 years as a Distinguished Service Professor Emeritus at New York State University at Buffalo. He is guided by the Iroquois democratic principles of governance by the people, which requires decision-making on behalf of the "seventh generation coming."
Praise For Dignity…
"Stunning, inspiring, and heart-breaking photos, spanning three decades and tens of thousands of miles."
Elle