Back in the Days Remix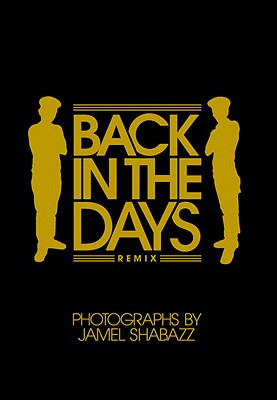 Back in the Days Remix
powerHouse Books, Hardcover, 9781576875674, 132pp.
Publication Date: June 21, 2011
* Individual store prices may vary.
Not Currently Available for Direct Purchase
or
Shop Local
Enter your zip code below to purchase from an indie close to you.
Description
"Back in the Days" documents the emerging Hip Hop scene from 1980-1989--before it became what is today's multimillion-dollar, multinational industry. "Back in the Days," battles involved rappers, DJs, dancers, and painters, not gangsters and guns. Back in the days, the streets--not corporate planning--set the standards for style. Back in the days, Jamel Shabazz was on the scene, photographing everyday people hangin' in Harlem, kickin' it in Queens, and cold chillin' in Brooklyn.
Street style with an attitude unmatched in fashion in the 30 years since, Shabazz's subjects strike poses that put supermodels to shame--showing off Kangol caps and Gazelle glasses, shell-top Adidas and suede Pumas with fat laces, shearling coats and leather jackets, gold rope chains, door-knocker earrings, name belts, boom boxes, and other finery. For anyone who wants to know what "keepin' it real" means, "Back in the Days" is the book of your dreams.
When it was first released in 2001, "Back in the Days" was a bomb dropped on the cultural landscape, changing the worlds of fashion, movies, music, and art in ways still felt today. Now, 10 years later, powerHouse is releasing a new edition of this unrivaled classic, with new photos and text. Don't sleep Now is the perfect time to reintroduce yourself to the ultimate collection of timeless street fashion and style: "Back in the Days.
About the Author




Ernie Paniccioli has been the chief photographer for Word Up! magazine since 1989. His work has appeared in a variety of books and periodicals, most notably Life, Vibe, Time, Rolling Stone, Newsweek, and The New York Times, as well as on MTV and VH1. Beyond the hip hop world, Paniccioli has captured a number of popular figures on film, among them Frank Sinatra, Liza Minelli, John F. Kennedy Jr., Britney Spears, and Ricky Martin. This is Ernie Paniccioli s first book. He lives in New Jersey.
Praise For Back in the Days Remix…
"Not an ounce of energy has drained from Back in the Days, Jamal Shabazz's photo chronicle of the early days of hip-hop style, since it was published in 2001. Those who still remember its release might be amazed to learn that a decade has since gone by; reason enough for powerHouse Books to bring it out again, in an expanded edition, as Back in the Days: Remix." 
Lens Blog
 
"'He did with pictures what rappers did with words,' said Bill Adler, a hip-hop historian and photography aficionado. 'He made these folks visible the way rap made them audible. He took everyday people and turned them into icons. Nobody told him to do this. He just went out and struck gold.'"
New York Times
 
"Beyond a specific genre of music or style of clothes, Shabazz's photos celebrate city life and youth culture, even as the blights of crack and AIDS ravaged New York..."
Time Out New York