Advanced Style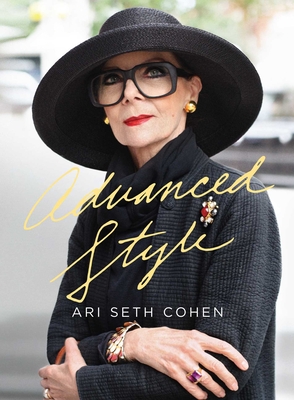 Advanced Style
powerHouse Books, Hardcover, 9781576875926, 240pp.
Publication Date: May 22, 2012
* Individual store prices may vary.
Buy at Local Store
Enter your zip code below to purchase from an indie close to you.
or
Buy Here
Description
"Advanced Style" is Ari Seth Cohen's blog-based ode to the confidence, beauty, and fashion that can only be achieved through the experience of a life lived glamorously. It is a collection of street fashion unlike any seen before focused on the over-60 set in the world's most stylish locales. The (mostly) ladies of "Advanced Style" are enjoying their later years with grace and panache, marching to the beat of their own drummer. These timeless images and words of wisdom provide fashion inspiration for all ages and prove that age is nothing but a state of mind.
Ari Seth Cohen started his blog inspired by his own grandmother's unique personal style and his lifelong interest in the put-together fashion of vibrant seniors. Each of his subjects sparkles like a diamond after long years spent refining and perfecting their individual look and approach to life. The "Advanced Style" book will showcase, in luscious full-color, the best of the blog, but will also act as a true guidebook with all-new material featuring wardrobes, interviews, stories, and advice from a cadre of his most chic subjects, along with a large selection of never-before-seen photography fresh off of sidewalk catwalks around the world
About the Author


Maira Kalman is an author and illustrator of numerous books for adults and children. She is a contributor to The New Yorker and the New York Times. Born in Tel Aviv, she lives in New York City.

Dita Von Teese is the brightest star in burlesque since Gypsy Rose Lee. As style icon and muse to artists, designers, and photographers, she has appeared on magazine covers and runways for Jean Paul Gaultier, Moschino, and Giambattista Valli, and is the performer of choice for Marc Jacobs, Christian Louboutin, and Louis Vuitton. Her DIY beauty ethos and entrepreneurial ventures designing award-winning perfumes, lingerie, gloves, and clothes, and as directing producer on her touring stage extravaganzas have established her as a role model to women. Her books include the bestseller Burlesque and the Art of the Teese/Fetish and the Art of the Teese and Dita: Stripteese. Dita and her feline, Aleister, live under the gaze of the star-viewing Griffith Observatory in Los Angeles.
Praise For Advanced Style…
"In print and on film, Mr. Cohen's arrestingly bedizened models embrace fashion with a sense of play."
Ruth LaFerla, The New York Times

"For all those who are sick and tired of seeing style and fashion presented solely as a young woman's game, behold 'Advanced Style.'"
Los Angeles Times

"a beautiful catalog of women who aren't over the hill, but rather ahead of the curve."
New York Post

"Advanced Style likely owes its rapid ascent in part to the dearth of attention paid anyone over 30 in popular culture. How the opportunity was missed is anyone's guess: According to 2010 census estimates, Americans 65 and older constitute 13 percent of the population. Those 45 and over — still two to three times the age of most female models — constitute more than 39 percent." New York Times

"'The women who I photograph are confident. They know what they like, they know what suits their bodies, and they're dressing for themselves. They don't dress based on trends.'" Ari Seth Cohen, New York Times

"These gorgeous ladies take away the fear of aging and give us all something to look forward to." Huffington Post

"These women are proof that personal style advances with age"
StyleList

"I was best friends with my grandmother growing up, and was always inspired by her energy and wisdom. I wanted to show that creativity, style, and vitality advance with age, and hopefully help change people's ideas about getting older."
Ari Seth Cohen, StyleCaster