Soulcraft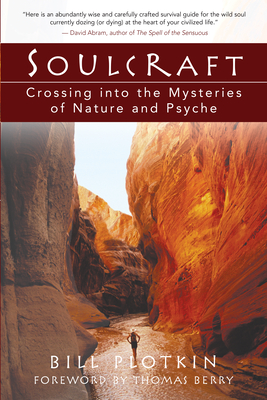 Soulcraft
Crossing Into the Mysteries of Nature and Psyche
New World Library, Paperback, 9781577314226, 320pp.
Publication Date: September 2003
* Individual store prices may vary.
Buy Now
or
Shop Local
Enter your zip code below to purchase from an indie close to you.
Description
Written for people in search of their true selves--in particular those on the verge of adulthood and those at a major crossroads such as divorce or career change--Soulcraft provides a means of personal growth and self-empowerment. Exercises and insightful stories explain how to discover one's unique gift, or "soul purpose," to be shared with others. Drawing on ancient traditions, this vision quest serves as a modern rite of initiation.
About the Author
Bill Plotkin, PhD, is the founder of the Animas Valley Institute and the author of "Soulcraft: Crossing into the Mysteries of Nature and Psyche." Visit him online at www.natureandthehumansoul.com.

McGraw-Hill authors represent the leading experts in their fields and are dedicated to improving the lives, careers, and interests of readers worldwide
Praise For Soulcraft…
"Here is an abundantly wise and carefully crafted survival guide for the wild soul currently dozing (or dying) at the heart of your civilized life. Plotkin has wandered again and again into the nourishing darkness, and has returned with this earthly bundle of insights and images talismanic tools for awakening to the outrageous depths both within us and all around us. He has bound them into a book that is immensely practical, alive with ritual intelligence, thick with useful tools from a host of courageous comrades."
David Abram, author of The Spell of the Sensuous

"As we enter a future where humans and the natural world are more intimate with each other, we will surely be powerfully influenced by this new guide into the mysteries of nature and psyche. In Soulcraft, Bill Plotkin gives us an authentic masterwork. In the substance of what he has written, in the clarity of his presentation, and in the historical urgency of the subject, he has guided us far into the new world that is opening up before us. We will not soon again receive a work of this significance."
from the foreword by Thomas Berry, author of The Dream of the Earth and The Great Work

"The fundamental worldview of industrial society is that Earth is like a gravel pit or a lumberyard just a resource for human use. We live disconnected from the evolving earth community, but our deepest allurement is a rich, intimate participation in nature and the ongoing adventure of the Universe. In this stunningly original and inspiring guide book, Bill Plotkin shows us how to reconnect with the sacred powers of life, of nature, of soul, and the ways that each one of us can reinvent ourselves and discover our unique way to flower forth."
Brian Swimme, cosmologist and author of The Hidden Heart of the Cosmos, The Universe is a Green Dragon, and coauthor with Thomas Berry of The Universe Story