Spiritual Envy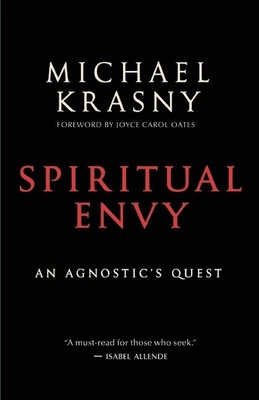 Spiritual Envy
An Agnostic's Quest
New World Library, Hardcover, 9781577319122, 264pp.
Publication Date: October 5, 2010
* Individual store prices may vary.
Buy at Local Store
Enter your zip code below to purchase from an indie close to you.
or
Not Currently Available for Direct Purchase
Description
As the host of one of National Public Radio's most popular interview programs, Michael Krasny has spent decades leading conversations on every imaginable topic and discussing life's most important questions with the foremost thinkers of our time. Now he brings his wide-ranging knowledge and perceptive intelligence to a thoughtful and thought-provoking exploration of belief — and lack of belief.

Many books and pundits advocate for a specific God, while others adamantly declare there is no God. Yet these strident viewpoints often speak right past each other, rarely convincing anyone but the already convinced. In Spiritual Envy, Krasny helps believers and nonbelievers alike understand their own questions about faith and religion, about God and human responsibility.

Krasny challenges each of us to look closely at faith and its power, and to examine the positive and negative aspects of religion as expressed in culture, literature, and human relationships. Personal and universal, timely and timeless, this is a deeply wise yet warmly welcoming conversation, an invitation to ask one's own questions — no matter how inconclusive the answers.
About the Author
Michael Krasny is the host and senior editor of Northern California's NPR affiliate KQED's award-winning "Forum" program, a news and public affairs radio program that also concentrates on current events, culture, health, business and technology, the arts and entertainment. Dr. Krasny is Professor of English at San Francisco State University.

Joyce Carol Oates is a recipient of the National Medal of Humanities, the National Book Critics Circle Ivan Sandrof Lifetime Achievement Award, the National Book Award, and the PEN/Malamud Award for Excellence in Short Fiction. She is the Roger S. Berlind Distinguished Professor of the Humanities at Princeton University and has been a member of the American Academy of Arts and Letters since 1978.
Praise For Spiritual Envy…
Michael Krasny is both the conscience and alpha brain of the Bay Area, and certainly one of the most thoughtful interviewers alive. That he's also fantastically open-minded and spiritually searching only increases his appeal and importance. It's hard to imagine radio, and the life of the mind, for that matter, without him."
Dave Eggers, author of Zeitoun and What Is the What

Michael Krasny's Spiritual Envy is a memoir of seeking and questioning, of a battle between a man's deepest yearnings and formidable intellect, of the longing for belief in the face of the impossibility of belief. If doubt is an element of faith, then Krasny's grappling with doubt is a kind of act of faith itself. This is a beautifully written book, and reading it is a spiritual adventure."
Dani Shapiro, author of Family History

Spiritual Envy is written with the same kind of self-reflection and open-mindedness that separates Krasny's radio show from the snarky ideological rantings of so many other radio and TV broadcasters, be they left-wing, right-wing, political or religious."
San Francisco Chronicle

This is a personal and philosophic journey in search of God, spiritual meaning and why religion and faith matter a must-read for those who seek. This book touched me personally because, like Michael Krasny, I wish I had faith: life would be simpler."
Isabel Allende, author of Island Beneath the Sea

If you felt a little bludgeoned by the Dawkins/Hitchens approach to God, this is the book for you, generous instead of pinched, and honestly engaged with actual religious people and ideas, not a series of straw men. Michael Krasny is every bit as open and curious in print as he is behind the mike."
Bill McKibben, author of The End of Nature

An agnostic describes his relentless struggle with spiritual beckoning in a thoughtful personal manner. Exceedingly well-informed, well-written, and edifying."
Irvin D. Yalom, author of Staring at the Sun

According to the public-opinion polls, agnostics and atheists are the group Americans trust least even though nonbelievers conduct themselves more ethically than do the religious faithful. It helps in reducing such ignorance and fear for nonbelievers to come out of the closet and profess not only their opinions but the emotional and intellectual struggles behind them, as the always engaging Michael Krasny does in this probing examination of his spirituality and ours."
Timothy Ferris, author of Coming of Age in the Milky Way

This is a beautiful, thoughtful book about the deepest issues of spirituality, told by Michael Krasny with remarkable openness about the subject and himself."
Scott Turow, author of Presumed Innocent and Innocent

The vitality and integrity of this beautifully written book is bound to touch anyone who knows how to value a truly independent mind and spirit."
Jacob Needleman, author of What Is God?

In this engrossing memoir, Michael Krasny searches for God and fails to find Him. Yet God finds Michael Krasny in the Negative Way known so well to so many who seek Him. God is not an entity to be accessed and understood. God is Love, infinite and eternal. To seek Him is to find Him, even as we envy those who have stumbled upon what they believe to be the Answer."
Kevin Starr, University of Southern California
Wednesday, Oct 6, 2010
As a boy, Michael Krasny believed God was watching him.  Then, in his teen years, he discovered science -- and skepticism. In Spiritual Envy: An Agnostic's Quest, the public radio host writes that he has longed for a God he could believe in, but simply hasn't found one. More at NPR.org