Snap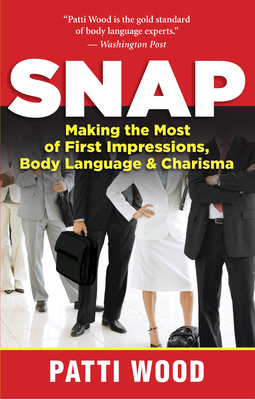 Snap
Making the Most of First Impressions, Body Language & Charisma
New World Library, Paperback, 9781577319399, 267pp.
Publication Date: October 2012
* Individual store prices may vary.
Shop Local
Enter your zip code below to find indies closest to you.
Description
From business meetings to social events to first dates to job interviews, we all encounter new people every day. Our ability to read body cues and convey the right first impression drives the success and quality of our personal and professional lives. Body language expert Patti Wood, a sought-after consultant and speaker to Fortune 500 companies, helps businesses and individuals stand out, create profitable relationships, and thrive in competitive circumstances. Now she brings that knowledge to our daily lives, offering practical and proven guidance on accurately interpreting body cues and creating impressions both in person and digitally. In Snap, you'll learn how to:

* Use your voice and body language to convey confidence and charisma, authenticity and authority
* Immediately discern people's hidden agendas
* Make the best impressions via email, phone, video conferencing, and social networks
* Convey and interpret signals of likability, power, credibility, and attractiveness
* Use nonverbal tools to spot true integrity or recognize charming frauds
* Attract the best matches in business and romantic partners
* Recognize how you really look to others
About the Author
Called "the gold standard of body language experts" by the Washington Post, and credited in the New York Times with bringing body language to national consciousness, Patti Wood researches and consults on first impressions, body language, and nonverbal communication. Patti Wood, MA, CSP, speaks to Fortune 500 companies, national associations, judges, and law enforcement organizations. You can see her on CNN, Fox News, PBS, Good Morning America, the Discovery Channel, Dr. Drew's show, Bravo, the History Channel, Nancy Grace, Entertainment Tonight, Inside Edition, Prime News, In Sessions, True TV, Fox Business Network, and other national news and entertainment programs. Her insights on body language and her readings of politicians, criminal suspects, and celebrities are quoted in publications such as the Wall Street Journal, Psychology Today, Bloomberg Business Week, Fortune, Esquire, Sports Illustrated, Cosmopolitan, USA Today, US Weekly, and People, and on Aol.com, the Huffington Post, and The Week. She lives near Atlanta, Georgia, and can be reached through her website, www.pattiwood.com.
Praise For Snap…
Snap gives incredible new insight into the most important language in the world."
Leil Lowndes, author of the bestselling How to Talk to Anyone

If making a great first impression is critical to your success, then you'll find Snap a must-read manual."
Mark Bowden, author of Winning Body Language

Writing with a wide range of lucid observations and insights, Wood offers a valuable addition to the many studies of human behavior."
Publishers Weekly