A Boy Named Sue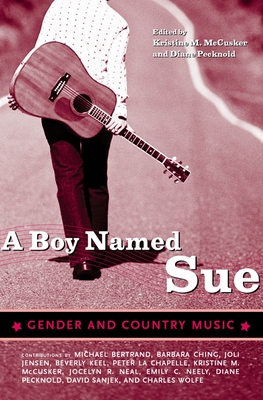 A Boy Named Sue
Gender and Country Music
University Press of Mississippi, Paperback, 9781578066780, 232pp.
Publication Date: November 2, 2004
* Individual store prices may vary.
Buy Now
or
Shop Local
Enter your zip code below to purchase from an indie close to you.
Description
From the smiling, sentimental mothers portrayed in 1930s radio barn dance posters, to the sexual shockwaves generated by Elvis Presley, to the female superstars redefining contemporary country music, gender roles and imagery have profoundly influenced the ways country music is made and enjoyed. Proper male and female roles have influenced the kinds of sounds and images that could be included in country music; preconceptions of gender have helped to determine the songs and artists audiences would buy or reject; and gender has shaped the identities listeners made for themselves in relation to the music they revered.
This interdisciplinary collection of essays is the first book-length effort to examine how gender conventions, both masculine and feminine, have structured the creation and marketing of country music. The essays explore the uses of gender in creating the personas of stars as diverse as Elvis Presley, Patsy Cline, and Shania Twain. The authors also examine how deeply conventions have influenced the institutions and everyday experiences that give country music its image: the popular and fan press, the country music industry in Nashville, and the line dance crazes that created the dance hall boom of the 1990s.
From Hank Thompson's "The Wild Side of Life" to Johnny Cash's "A Boy Named Sue," from Tammy Wynette's "Stand by Your Man" to Loretta Lynn's ode to birth control, "The Pill," "A Boy Named Sue" demonstrates the role gender played in the development of country music and its current prominence.
About the Author
Kristine M. McCusker, Murfreesboro, Tennessee, is a professor of history at Middle Tennessee State University. She is also the coeditor of "A Boy Named Sue: Gender and Country Music" (University Press of Mississippi).

Diane Pecknold, Louisville, Kentucky, is an associate professor of women's and gender studies at the University of Louisville. She is also the coeditor of "A Boy Named Sue: Gender and Country Music" (University Press of Mississippi).