The S.W.A.T. Workout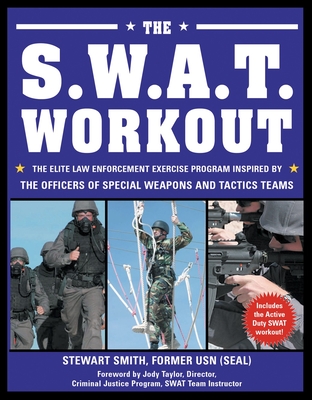 The S.W.A.T. Workout
The Elite Law Enforcement Exercise Program Inspired by the Officers of Special Weapons and Tactics Teams
Getfitnow.com Books, Paperback, 9781578262168, 204pp.
Publication Date: March 2006
* Individual store prices may vary.
Buy Now
or
Shop Local
Enter your zip code below to purchase from an indie close to you.
Description
Preparing to become a member of an elite SWAT squad requires determination, courage, and top physical conditioning. Carrying wounded hostages, breaking down barricades, and rappelling down the sides of skyscrapers are just some of the demanding tasks faced by our SWAT teams, requiring incredible agility, strength, and endurance.

Now, in The S.W.A.T. Workout, you too can achieve the levels of fitness required by these elite operators. Its specially designed programs utilize calisthenics, weights, and speed drills to prepare you for the rigorous physical fitness entry exams required for SWAT teams. If you are already a SWAT member, our special programs will keep your physical performance levels at their highest.

The S.W.A.T. Workout provides an intense exercise routine for fitness enthusiasts in and out of uniform. For everyone who aspires to serve their country in the war on crime and terror, it is essential.
About the Author
Stewart Smith is an Australian and a software engineer working for MySQL AB on MySQL Cluster. He started being a serious Linux user in the days of MkLinux pre-DR3 and remembers being thrilled with the arrival of a driver for his floppy drive. In 2003, he first saw TiVo and realized that TV could be made not to suck. Stewart had MythTV running very soon after that and has enjoyed enlightenment ever since. He has always liked writing his own software and continues to enjoy doing so. He is also involved in the local LUG (LUV&emdash;Linux Users of Victoria) and has been on the board of Linux Australia from 2003 to the present.

Peck is a freelance photographer.

Jody Taylor is an illustrator and the editor of a number of Boyds Mills Press activity books, including The Jumbo Book of Hidden Pictures series and The Super Colossal Book of Hidden Pictures series. She lives in Honesdale, Pennsylvania.