Heaven's War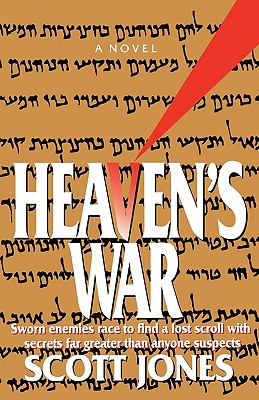 Heaven's War
Waterbrook Press, Paperback, 9781578560219, 400pp.
Publication Date: February 1, 1998
* Individual store prices may vary.
Buy at Local Store
Enter your zip code below to purchase from an indie close to you.
or
Buy Here
Description
During the Six-Day War in 1967, Bethlehem and east Jerusalem were captured by the Israelis, and sovereign dominion of the holy city returned to the Jews for the first time in over two thousand years. At that time, a Dead Sea artifact known as the Temple Scroll was confiscated by the Israeli government, and no Dead Sea Scrolls have surfaced in any official quarter since--although secret, Black Market purchases continue to this day...

Andrei Vartanyan--A ruthless, special intelligence operative for the former Soviet Union, Vartanyan has a reputation for getting what he wants at any cost. Now he's hot on the trail of a lost scroll rumored to hold the key to unlocking the secrets of 64 hidden treasure sites described in the famous Copper Scroll. And he'll stop at nothing--not even murder--to get it.

Jack Calumet--One of the most proficient operatives the CIA has ever fielded, Calumet has gone up against Vartanyan once before, outfoxing him and levying a brilliant disinformation coup against the Russian and his comrades...but losing the woman he loved in the process.

Now Jack Calumet wants revenge. But a shocking discovery with worldwide implications makes it clear that there is more to this top secret operation than he ever dreamed. As the British, the Russians, the Arabs, the Israelis...and even the Vatican join in the chase, the story races to a climactic confrontation, and the two sworn enemies square off once again. Only this time, the stakes are higher than ever before, and a powerful revelation concerning the Word of God and the foundation upon which it is based will stand or fall as Heaven's War reaches its final battle.
About the Author
Scott Jones is a graduate of Texas A&M University. He resides with his wife, Vicki, in Marietta, Georgia.