Prayers God Always Answers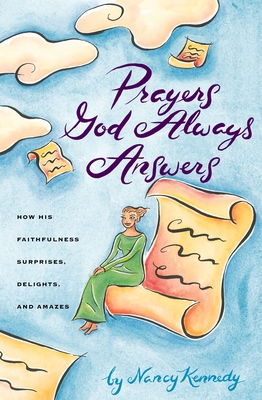 Prayers God Always Answers
Waterbrook Press, Paperback, 9781578561971, 224pp.
Publication Date: October 19, 1999
* Individual store prices may vary.
Buy Now
or
Shop Local
Enter your zip code below to purchase from an indie close to you.
Description
"I have a secret prayer," confesses humorist Nancy Kennedy. "Every night before I go to sleep, I pray that I will wake up with a body like Cindy Crawford's...that the pile of Hershey kisses I ate won't go directly to my thighs...that one day someone will push a refrigerator-size check in my face and say, 'You've just won 11 million dollars!'"
        But Kennedy has also prayed for "nobler" things - like patience, strength, and a deeper trust in God. But, as she's found, prayers are not always answered in the way one expects. Like many others, she has wondered: "Why do I sometimes get immediate answers to my prayers, completely unexpected answers to others, and occasionally no answer at all? What can I legitimately pray for, according to the Bible? Will God respond to my prayers if I lack faith that He'll answer? Does God even need my prayers, since He must know what He wants to do already?
        With lighthearted humor and godly wisdom, Nancy Kennedy explores readers' most burning questions about prayer, solving a great deal of the mystery through an examination of those wonderful prayers God always answers: ones that lovingly conform us to the image of Christ.