The Peanut-Butter Burglary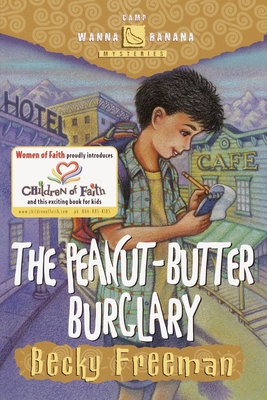 The Peanut-Butter Burglary
Waterbrook Press, Paperback, 9781578563524, 96pp.
Publication Date: March 19, 2002
* Individual store prices may vary.
Buy Now
or
Shop Local
Enter your zip code below to purchase from an indie close to you.
Description
When you live at the best Christian youth camp around–Camp Wanna Banana–life is filled with adventure, excitement–and fun! Join ten-year-old twins Jake and Joy; Joy's pet spider monkey, Munch-Munch; and their "twibling" friends, Marco and Maria, as they solve a whole series of mysteries in and around Camp Wanna Banana.

First, food starts disappearing from Miss Nellie's café. Then lumber walks away from Mr. Henley's hardware store. Always ready to solve a mystery, the Two Amigos Detectives, Marco Garcia and Jake Bigsley, set out to catch the odd thief. It appears to be an open-and-shut case. All the clues point to Mr. Klem, whose large family is poor by most standards. But Marco, friends with one of the Klem girls, can't bring himself to accuse the head of such a happy family. When a surprise comes to Tall Pines, however, the case takes a sudden turn. In the days that follow, a revelation rocks the town and Marco's understanding of what it means to be rich is challenged as he and Jake work to solve the crazy case of the Peanut-Butter Burglar.
About the Author
Becky Freeman is an award-winning, best-selling author, national speaker and humor columnist, and a certified teacher and recent recipient of the Texas A&M Alumni Award in education for her contribution to the world of children s learning. Her many books include Mom s Everything Book for Daughters, Mom's Everything Book for Sons, Help! I'm Turning into My Mother, Milk & Cookies to Make You Smile, and Lemonade Laughter and Laidback Joy. Becky lives in Highlands Ranch, Colorado.

JOHN FREEMAN is an award-winning writer and book critic who has written for numerous publications, including"The New York Times Book Review", the "Los Angeles Times", "The Guardian", and "The Wall Street Journal". Freeman won the 2007 James Patterson PageTurner Award. He is the editor-in-chief of Granta and ?lives in New York City.