Lord, I Need Grace to Make It Today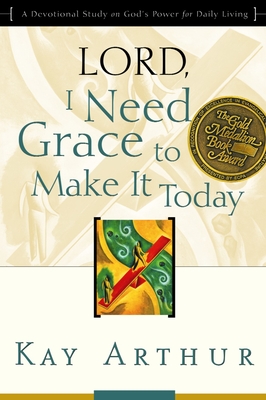 Lord, I Need Grace to Make It Today
A Devotional Study on God's Power for Daily Living
Waterbrook Press, Paperback, 9781578564415, 240pp.
Publication Date: November 21, 2000
* Individual store prices may vary.
Buy Now
or
Shop Local
Enter your zip code below to purchase from an indie close to you.
Description
Enjoy the expanded and updated editions of the best-selling "Lord" Bible Study Series from Kay Arthur. The "Lord" study series is an insightful, warm-hearted Bible study series designed to meet readers where they are--and help them discover God's answers to their deepest needs.
In the Dark Times of Failure and Fear, Let God Lavish His Grace on You.
There are times when we all wonder if we'll make it in life -- and if it's worth even trying. Feelings of unworthiness and guilt over past sins, times of spiritual weakness and inadequacy -- the burdens seem overwhelming.
Don't give up God's grace is available freely and lavishly for all who would take it.
If you long for the covering of God's grace, let Kay Arthur guide you through the Word of God. Discover how to appropriate God's grace for every situation and every emotion you must face.
Lord, I Need Grace to Make It Today is a devotional study that will minister to you in intimate ways. And it is truth you can share easily with others, individually or in small groups.
About the Author
Kay Arthur is a four-time Gold Medallion award-winning author, member of NRB Hall of Fame, and beloved international Bible teacher. She and her husband, Jack, cofounded Precept Ministries International to teach people how to discover truth through inductive study. Precept provides teaching and training through study books, TV and radio programs, the Internet, and conferences in over 180 countries and 70 languages.
Praise For Lord, I Need Grace to Make It Today…
"Through this book you will come face to face with the living Word of God -- the Word that becomes the means of throwing His light on the direction your life is taking, so you can know
with absolute confidence not only where you are headed, but the adequacy of His grace to sustain you on your way." --Kay Arthur