Restoration & Romance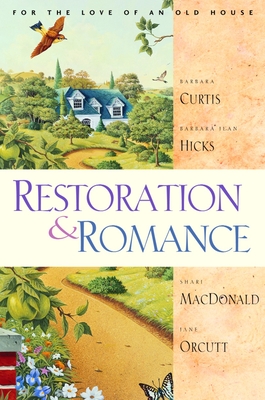 Restoration & Romance
For the Love of an Old House
Waterbrook Press, Paperback, 9781578564637, 352pp.
Publication Date: September 18, 2001
* Individual store prices may vary.
Buy at Local Store
Enter your zip code below to purchase from an indie close to you.
or
Buy Here
Description
Welcome to a Place Where Love Abides
Experience the splendor of love with four sweet romances each one the story of hearts and homes renewed authored by some of the leading names in Christian romance fiction.
THE QUEEN OF THE WORLD AND THE HANDYMAN by Barbara Jean Hicks "(An Unlikely Prince, All That Glitters, Loves Me, Loves Me Not)"
Incensed by town gossip about Gran-Marie and her hired hand, Chloe Burnett determines to protect her grandmother's reputation at all costs, even if it means posing as the cocky handyman's fiance But a near-tragedy reveals that nothing is as it seems to be including the pretend engagement that no longer feels pretend.
BESIDE THE STILL WATERS by Barbara A. Curtis
Interior designer K.C. McKenzie wants to restore her late husband's family farmhouse, as well as her memories. But the new owner, Chicago architect Raleigh Kincaid, refuses to sell. When he enters a restoration contest, however, Raleigh finds that he needs K.C. in more ways than one.
HOME FOR THE HEART by Shari MacDonald
("Love On the Run, A Match Made in Heaven, The Perfect Wife)"
When spunky TV host Flynn Kelley inherits half of a historic Maryland estate, she squares off against a maddening and endearing figure from her troubled youth. Working together, can she and Charlie Kenilworth renovate the crumbling estate and their wounded hearts? "
"
DON T LOOK BACK by Jane Orcutt
("The Living Stone, The Fugitive Heart, The Hidden Heart)"
One year after a divorce she didn t want, Laurie Golden has moved her children to small-town North Texas, hoping to restore what's left of her family and the family home. But skeletons in her family's closet reveal that history is sometimes best left in the past, and that the future is an open book in which life and love can be written.
About the Author


Barbara Jean Hicks lives in Seattle, Washington, where she is author-in-residence at an elementary school. This is her first book for children.
Alexis Deacon's previous book, Beegu, was a New York Times Book Review Best Illustrated Book of the Year. He lives in London, England.


Shari MacDonald recently ran toward love with arms outstretched. Thankfully, the object of her affections did not flee, and as a result she is the happily married wife of photojournalist Craig Strong. The newlyweds live in Portland, Oregon, with their escape-artist dog, Ellie, who likes to run toward cats with paws outstretched. Shari is a best-selling author of several inspirational romances, including Sierra, Forget-Me-Not, Diamonds, and Stardust.