God Gave Us Two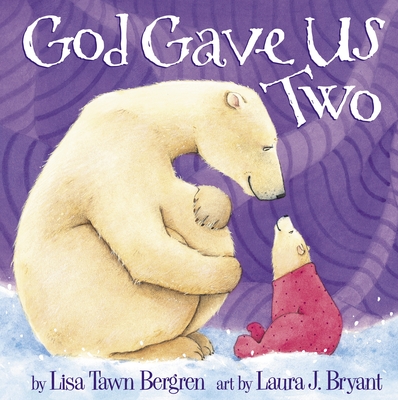 God Gave Us Two
Waterbrook Press, Hardcover, 9781578565078, 40pp.
Publication Date: September 18, 2001
* Individual store prices may vary.
Buy Now
or
Shop Local
Enter your zip code below to purchase from an indie close to you.
Description
Now that Mama polar bear has another baby in her tummy, Little Cub is bursting with curiosity. Why do we need a new baby? she asks. If we don t like the new baby, can we send it back?
Will you forget me when the new baby comes?
Gently and lovingly, Mama and Papa assure their firstborn that the new baby is a gift from God they want very much, just as Little Cub was and still "is."
God gave us you. Now he's given us two
The winsome sequel to "God Gave Us You, God Gave Us Two" playfully affirms a child's uniqueness and place in the family and helps little ones accept, appreciate, and love their new siblings.
About the Author
Lisa T. Bergren is the author of over forty books, with a combined count of nearly three million copies sold. She has written bestselling children s books, award-wining YA (River of Time Series: Waterfall), popular historical fiction, contemporary fiction, women s nonfiction, and gift books. She is a writer residing in Colorado Springs, CO, with her husband and three children. You can find out more about Lisa at LisaBergren.com.

From her studio window or nearby her home nestled in the Shenandoah Mountains of West Virginia, Laura Bryant saw deer, fox, ducks, bats, possum, squirrels, skunks, and even a bear - all while she was illustrating this book! Laura is an award-winning children's book illustrator who loves to celebrate visually the beauty and intimacy of nature. Her hope is that children see their connection to the natural world as well as the love and warmth of their own parent.