It's Okay to Cry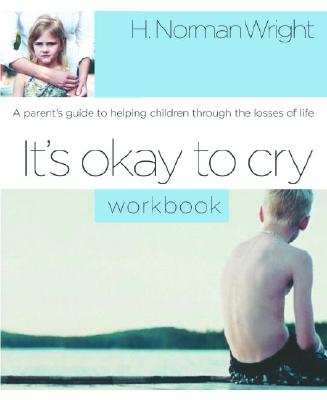 It's Okay to Cry
A Parent's Guide to Helping Children Through the Losses of Life
Waterbrook Press, Paperback, 9781578567607, 144pp.
Publication Date: June 22, 2004
* Individual store prices may vary.
Not Currently Available for Direct Purchase
or
Shop Local
Enter your zip code below to purchase from an indie close to you.
Description
Restoring Your Child to Emotional Health

When something unexpected, disappointing, or traumatic occurs, children feel a very real sense of loss. Parents or others who care need to tell them,

It's Okay to Cry.

Children may respond to loss with fear or with anger. Most likely they are confused. They have questions they want and need answered. This workbook, with excerpts from the book It's Okay to Cry, gives parents a hands-on, interactive tool for dealing with various losses in their children's lives.

The workbook includes exercises, charts, and illustrations to assist children in identifying feelings and grieving properly. Separate sections of the workbook are suitable for younger children, elementary-age children, and pre-teens. Drawing pages, reflective exercises, and other aids help children process loss and move toward full emotional healing and recovery.

This loss recovery workbook will help anyone helping a child apply the practical advice from well-known and respected author H. Norman Wright. His sympathetic and reassuring approach gives parents and children the comfort and hope they seek.
About the Author
Dr. H. Norman Wright is a grief and trauma therapist and a licensed marriage, family, and child therapist. He has been on the faculty at Biola University and Talbot School of Theology, where he taught graduate students in counseling and psychology for four decades. He has authored more than 80 books, including "Experiencing Grief", "Before You Say I Do", and "Communication: Key to Your Marriage". Norman and his wife, Tess, live in Bakersfield, California.
Praise For It's Okay to Cry…
"Open the mind of a child and you might expect to find flowers, sunshine, and Sponge Bob. Norm Wright helps us to understand that a child's world is also filled with real hurts and disappointments due to a variety of losses suffered and stored. And, after all, as Charles Dodson (aka Lewis Carol) so eloquently reminds us of adults, "We are but older children, Dear. Who fret to find out bedtime near." The losses of a child's world become the losses of our own psyches. It's Okay to Cry was more than a learning experience. It was necessary therapy."
- -Mike Klumpp author of The Single Dad's Survival Guide and parent of eight

"This is an incredible 'gift' book for all whose lives intersect grieving children. Read it with a highlighter because, sooner or later, you will need the wise counsel that Norm Wright offers. I especially found helpful his suggestions for 'An Anxiety Fable' to help children begin to find words for their losses. I will be a better grief counselor for having read this important practical resource."
--Harold Ivan Smith, CT, thanatologist and author of When a Child You Love Is Grieving

"This is a wonderfully helpful, practical book! It needs to be read by every parent, grandparent, and worker with children so we can help a generation that sees too much, is exposed to too much, and consequently knows or experiences too much--too much of everything and often not enough of their parents.   This is a book that will help you be there for your child in an understanding and constructive way."
--Kay Arthur, CEO and co-founder of Precept Ministries International

"Every parent who has ever said a few words over a goldfish in a toilet bowl
or felt the numbness of an unexpected diagnosis in a pediatrician's office will appreciate the heartfelt wisdom in It's Okay to Cry. Norm Wright tenderly and skillfully equips parents to help children cultivate a healthy response to life's many pains and sorrows."
--Lori Borgman, columnist and author of Pass the Faith, Please