DragonSpell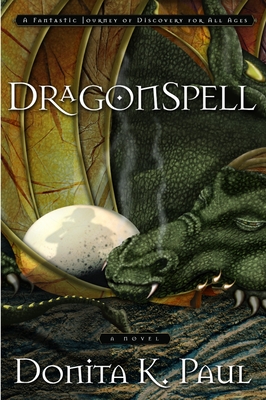 DragonSpell
Waterbrook Press, Paperback, 9781578568239, 352pp.
Publication Date: June 22, 2004
* Individual store prices may vary.
Buy Now
or
Shop Local
Enter your zip code below to purchase from an indie close to you.
Description
One Dragon Egg Holds the Key to the Future.
Once a slave, Kale is given the unexpected opportunity to become a servant to Paladin. Yet this young girl has much to learn about the difference between slavery and service.
A Desperate Search Begins
A small band of Paladin's servants rescue Kale from danger but turn her from her destination: The Hall, where she was to be trained. Feeling afraid and unprepared, Kale embarks on a perilous quest to find the meech dragon egg stolen by the foul Wizard Risto. First, she and her comrades must find Wizard Fenworth. But their journey is threatened when a key member of the party is captured, leaving the remaining companions to find Fenworth, attempt an impossible rescue, and recover the egg whose true value they have not begun to suspect
Weaving together memorable characters, daring adventure, and a core of eternal truth, "Dragonspell" is a finely crafted and welcome addition to the corpus of fantasy fiction.
About the Author
Donita K. Paul is the author of the best-selling DragonKeeper Chronicles with over a quarter of a million books in print.
Praise For DragonSpell…
"In Dragonspell, Donita K. Paul has created an amazing world of fantasy adventure. From riding on dragons to jumping off cliffs to moving mountains, this story is sure to spark a reader's imagination–young and old. And with a message of identity transformed from slavery to servanthood, it's a book families will love reading and discussing together."
–Christopher P. N. Maselli, children's author of Reality Shift and founder of TruthPop.com

"A reluctant heroine, her fainting dragon, and an assortment of colorful companions make for a delightful read in Donita K. Paul's Dragonspell. This is adventure and fantasy at its finest–a must read for the imaginative soul."
–Linda Windsor, award-winning author of Along Came Jones and the Fires of Gleannmara trilogy

"Dragonspell is a fine, well-written tale guaranteed to entertain both old and young alike. This was proven in our household when our eleven-year-old son snatched up the book and devoured it. Upon returning it, he exclaimed, 'It's good!' –high praise from a rabid fan of Tolkein, Lewis, Jacques and company. I can only nod my head in agreement."
–Christopher A. Lane, Gold Medallion and C.S. Lewis award-winning author of children's and adult fiction

"Inventive, engaging, witty, insightful, touching, and profound–Dragonspell is all this and more. If Donita K. Paul's only intention was to create a world where readers encounter novelties and wonders at every turn, then she has succeeded admirably. But she actually does much more than this: she enables us to see our relationship with God and His world through new eyes. A delight for all true fans of fantasy literature."
–Jim Ware, author of God of the Fairy Tale and co-author of Finding God in the Lord of the Rings

"Enchanting! A perilous quest, a timeless battle, an unlikely heroine, and a rousing adventure in a world of magic and mystery–Donita K. Paul has concocted a tale brimming with eternal truth and seasoned with delightful and amazing characters that linger in the senses long after the last page. Dragonspell is destined to become a classic for a new generation of adventurers!"
–Susan May Warren, award-winning author of Happily Ever After

"The greatest thing any author can do is to catch you up and transport you right into the very scene, the very action, the story . . . in such a way that you live the book, not merely read it.  That is exactly what Donita K. Paul does with Dragonspell.  For a few hours, you will take a journey to a place you have never been, with a story you will never forget.  Enjoy the trip!"
–Stephen Bly, author of Paperback Writer and Christy-award-winning The Long Trail Home

"Dragonspell is a tightly written fantasy quest set in an extraordinarily rendered storyworld. With seven intelligent races, seven evil races, several delightful dragons, one weird wizard, and an endless supply of exotic plants and animals, you will NOT be bored."
–Randy Ingermanson, Christy award-winning author of Oxygen and Premonition

"No one will ever be able to read this and doubt that Christian fantasy is a viable genre for spreading God's word."
–Christine Lynxwiler, president of American Christian Romance Writers

"Charming, well-drawn characters, a story chock full of adventures and misadventures, a land populated with dragons, doneels, emerlindians, grawligs, and all sorts of other fascinating inhabitants–I ask you, what more could any reader want? With Dragonspell, Donita K. Paul has nailed a complex and engaging fantasy world. Whether nine or ninety, you won't be disappointed."
–Kathleen Morgan, author of Consuming Fire and All Good Gifts

"Dragonspell has a heart-thumping, page-turning plot that is sure to captivate and enthrall even the most reluctant reader!"
–Peggy Wilber, author of Reading Rescue 1-2-3