Every Young Woman's Battle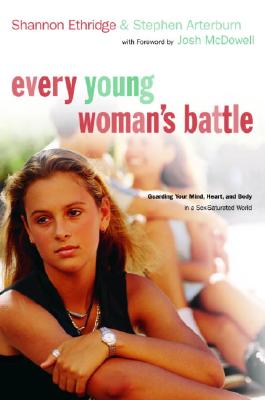 Every Young Woman's Battle
Guarding Your Mind, Heart, and Body in a Sex-Saturated World
WaterBrook Press, Paperback, 9781578568567, 240pp.
Publication Date: July 20, 2004
* Individual store prices may vary.
Buy at Local Store
Enter your zip code below to purchase from an indie close to you.
or
Not Currently Available for Direct Purchase
Description
Guys Aren't the Only Ones Fighting a Battle for Purity.

The world you live in promotes sex as the answer to just about everything. The pressure to go along with the crowd is greater than ever before, and it's easy to compromise in little ways that are a lot more harmful than they seem. You and your friends may become caught up in destructive relationships or sexual activities without even knowing how you got there. You just want to be normal–to fit in, to be liked, to look attractive to the opposite sex. But are you paying too high a price?
This counterpart to the award-winning Every Young Man's Battle can help you:

· learn how the sexual battle begins in your heart and mind
· understand your hunger for attention from guys
· recognize and avoid the potential pitfalls awaiting young women on the journey toward adulthood and possibly marriage
· find out how the media, novels, fashion, internet chat rooms, and body and beauty obsessions influence your sexual choices–and what you can do about it
· guard your mind, heart, and body against sexual and emotional compromise
· develop a deeper, more satisfying level of intimacy with God

Whether you have so far protected yourself emotionally and sexually, feel that you've been robbed of your purity, or have given in to temptation in some way, this book can help you achieve or reclaim sexual integrity. It can also guide you through the temptations and pressures of young adulthood while demonstrating how you can live your life to the fullest–without regrets.
About the Author
Shannon Ethridge is the founder of Well Women Ministries and best-selling author of "Every Woman's Battle, "as well as a wife, mother, conference speaker, and lay counselor. She speaks regularly at Teen Mania Ministries where she teaches others how to lead Well Women growth groups across the nation and abroad.

Stephen Arterburn is founder and chairman of New Life Clinics, host of the daily "New Life Live! "national radio program, creator of the Women of Faith Conferences, a nationally known speaker, and the best-selling authorof more than two dozen books, including the award-winning "Every Young Man's Battle" with co-author Fred Stoeker.""
Praise For Every Young Woman's Battle…
"I'm so grateful that Shannon decided to be as honest and real as she is–that's the only way this book could be as powerful as it is.… God is going to heal in unbelievable ways through this potent work of art and heart!… I can honestly say that this book has changed me–because it gives a clear picture of who Jesus is, who we are as His bride, and why we can't seem to be satisfied with anything or anyone else."
–Bethany Dillon, songwriter and recording artist

"Like a steady IV drip, today's teenage girls get a message of confused and cheapened sexuality. They are desperate for reasons to guard and preserve themselves. Shannon Ethridge gives girls reasons in this relevant and readable book. Every young woman and every young woman's mother needs to read this book!"
–Sharon Hersh, author of "Mom, I Feel Fat!" and "Mom, I Hate My Life!"

"A must-read for every teenage girl! Honest and informative, this book is not only highly readable with its true-to-life illustrations, but it's packed with answers for every sexual situation today's teens encounter. What a great antidote for the twisted sexual messages our pop-culture continues to dish out. Way to go, Shannon!"
–Melody Carlson, author of Diary of a Teenage Girl series and Torch Red, Color Me Torn

"Shannon writes with a direct, forthright style, yet she remains tactful and kind as she presents her balanced, godly teaching on dating and relationships. Without question, this is a must-read for any young woman who longs to remain pure in her relationship with God, and I suspect this book will very quickly become a staple of small-group studies."
–Fred Stoeker, coauthor of Every Young Man's Battle

"This book should be required reading for any teenage girl who has been exposed to the negative influences of the culture through media, music, movies, and fashion magazines. As someone who is in the trenches of ministry to teen girls, I appreciate Shannon' s candid approach and her willingness to tackle some difficult topics facing our young women. She does a beautiful job of exposing the godless issues of the culture, while at the same time, offering godly solutions."
–Vicki Courtney, founder of Virtuous Reality Ministries and author of Your Girl: Raising A Godly Daughter in an Ungodly World

"This book is awesome! I will be buying it and reading it with teens that I mentor. I wish it had been available to me when I was a teen."
–Adrienne Freas, homemaker and Campus Crusade for Christ staff member