Being God's Man by Standing Firm Under Pressure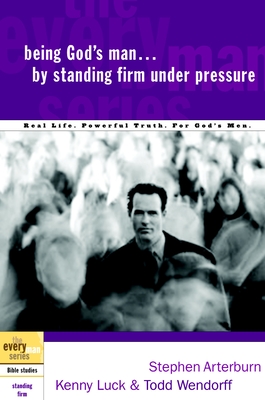 Being God's Man by Standing Firm Under Pressure
Waterbrook Press, Paperback, 9781578569182, 96pp.
Publication Date: November 16, 2004
* Individual store prices may vary.
Buy Now
or
Shop Local
Enter your zip code below to purchase from an indie close to you.
Description
How to maintain your godly boundaries even under pressure.

When you're faced with an imminent threat, your body releases adrenaline. Your heart beats faster. Your muscles tense, and all your senses switch to "Go." But what happens when your spiritual well-being is under attack? Do you stand strong in your desire to do God's will…or run for the hills?

The path of faith is tough traveling. Fighting to hold on to God's purposes under adverse conditions is inconvenient, impractical, and thoroughly unpredictable. Standing firm under pressure reveals our true convictions about God, about everything.

In Being God's Man by Standing Firm Under Pressure you'll examine one man–named Daniel–and his band of brothers who demonstrated how not to compromise under pressure. They didn't let misfortune, temptation, manipulation, intimidation, or even death shake their faith into compromise. Instead, they faced each new challenging circumstance with courage and trust. As God's man, you can, too.

Special Features:
·Practical studies facilitate personal encounters with God and other men
·Questions encourage genuine reflection and help build godly convictions
·"Real Life" case studies show how the truths you discover have worked out in other men's lives
·"Standing Strong" section gives you the opportunity to form and express your action steps with God and your group
About the Author
Stephen Arterburn is founder and chairman of New Life Clinics, host of the daily "New Life Live!" national radio program, a nationally known speaker, and the bestselling author of more than two dozen books.

Kenny Luck is the men s pastor at Saddleback Church in Lake Forest, California, and the founder/president of Every Man Ministries, helping churches worldwide develop and grow healthy men s communities. An ECPA Platinum Award-winning author, he has written or cowritten twenty books including "Every Man", "God s Man" and "Every Young Man". Kenny and his wife have three children. He also plays in a men s soccer league, mountain bikes, and loves flag football on Thanksgiving morning.


Todd is the lead pastor of the River Church in the South Bay, California.