Leading with a Limp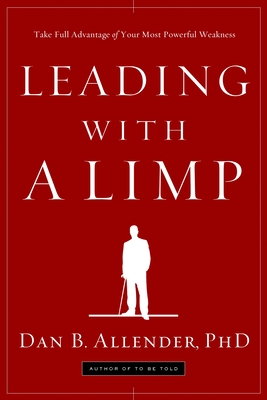 Leading with a Limp
Take Full Advantage of Your Most Powerful Weakness
Waterbrook Press, Paperback, 9781578569526, 206pp.
Publication Date: January 15, 2008
* Individual store prices may vary.
Buy at Local Store
Enter your zip code below to purchase from an indie close to you.
or
Buy Here
Description
Put your flawed foot forward.
Pick up most leadership books and you ll find strategies for leveraging your power and minimizing your areas of weakness. But rather than work against your weakness, why not draw from a deeper well of strength? God favors leaders who make the most of the power that comes from brokenness.
Go ahead and take full advantage of your flaws. The most effective leaders don t rise to power in spite of their weakness; they lead with power "because" of their weakness. It is their authenticity in limping leadership that compels others to follow them. Flawed leaders are successful because they re not preoccupied with protecting their image. They are undaunted by chaos and complexity. And they are ready to risk failure in moving an organization from what is to what should be.
If you are a leader or if you have been making excuses to avoid leading find out how to get the most from your weakness. A limping leader is the kind of person God uses to accomplish amazing things.
To go deeper, check out the "Leading with a Limp Workbook.

About the Author
Dr. Dan B. Allender received his MDiv from Westminster Theological Seminary and his PhD in Counseling Psychology from Michigan State University.
Dan taught in the Biblical Counseling Department of Grace Theological Seminary for seven years (1983-1989). From 1989-1997 Dan worked as professor in the Master of Arts in Biblical Counseling program at Colorado Christian University Denver Colorado. Currently Dan serves as Professor of Counseling Psychology and President at Mars Hill Graduate School (MHGS.edu) in Seattle Washington.
He travels and speaks extensively to present his unique perspective on sexual abuse recovery love and forgiveness worship and other related topics. He is the author of The Wounded Heart (NavPress) and has coauthored four books with Dr. Tremper Longman III Intimate Allies (Tyndale) The Cry of the Soul (NavPress) Bold Love (NavPress) and Breaking the Idols of Your Heart (IVP). Dan and his wife Rebecca have three children and live in Seattle Washington.

Praise For Leading with a Limp…
Praise for Leading with a Limp

"There are good books on leadership, but this one is profound. It is better than a 'how to do it' book; this is a 'how to be it' book for leaders. Dan Allender offers serious wisdom rather than simple platitudes."
–Mark Sanborn, speaker, leadership consultant, and best-selling author of The Fred Factor

"Not only is Dan Allender a good friend, he is a great leader. In Leading with a Limp, he has shown us how we can effectively lead those allotted to our charge. Read this book...it will bring a lot of things into perspective for you."
–Dennis Rainey, president of FamilyLife and coauthor of Moments Together for Couples

"After reading this book, the first two words out of my mouth were 'At last!' Amid a deluge of spiritual gifts inventories, at last there is someone who understands how God's strength is made perfect in our imperfections. At last someone has brought spiritual strengths and spiritual weaknesses into conversation. For Dan Allender, the limp is a limpid way of walking that leads into the very presence of God."
–Leonard Sweet, author of The Three Hardest Words and Out of the Question…Into the Mystery

"Leading with a Limp is not your basic, cafeteria-brand manual on how to 'do' leadership. It is a call to openly face your shortcomings as a leader. Dan Allender reminds us that our greatest asset as leaders is not our competence but the courage to name and deal with our frailties and imperfections."
–Dr. Crawford W. Loritts, Jr., author, speaker, and senior pastor of Fellowship Bible Church in Roswell, Georgia

"Once again Dan Allender has propelled us headlong into the paradoxical wonders of the gospel of God's grace. Leading with a Limp exposes the thin veneer of respectability we leaders try to stretch over our destructive idols of control and pragmatism. In so doing, Allender invites us to the freeing humility of leading as "the chief sinner" in whatever context God has placed us."
–Scotty Smith, founding pastor of Christ Community Church in Franklin, Tennessee, and coauthor of Restoring Broken Things

"I often wonder if other people feel the way I do when they read books on leadership. Most of the books are heavy on motivation or strategy or positive thinking. Dan Allender looks at how anyone can move his team–and himself–forward when he is pummeled by circumstances and his heart is fainting. This is real-world stuff, but you'll have to take off the rose-colored glasses to read it."
–Bob Lepine, cohost of FamilyLife Today

"Leading with a Limp will have a lasting impact on me; it addressed several issues I'm struggling with at this point in my life and leadership. I thank God for this honest and insightful book!"
–Brian McLaren, pastor, author of The Secret Message of Jesus and A New Kind of Christian