Big Sky Cooking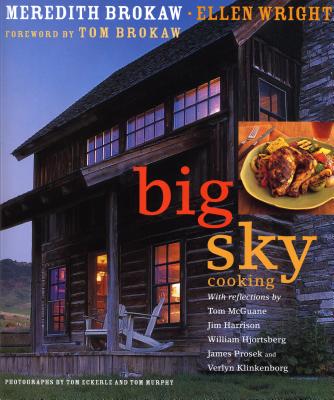 Big Sky Cooking
Artisan Publishers, Hardcover, 9781579652685, 224pp.
Publication Date: May 1, 2006
* Individual store prices may vary.
Buy at Local Store
Enter your zip code below to purchase from an indie close to you.
or
Buy Here
Description
The West has a permanent pull on the American psyche. It's the place where the prairie meets the mountains, the mountains meet the sky, and the sky goes on forever. It's the home of our legends, our heroes and outlaws, our romanticized past.
Meredith and Tom Brokaw could feel the attraction all the way from their home in New York City. Native South Dakotans, they had settled into a frenetic Manhattan lifestyle, tempered by frequent visits to Montana, until Tom could no longer resist. He convinced Meredith to join him in buying a ranch north of Yellowstone. Meredith, in turn, convinced her friend, passionate cook Ellen Wright, to come and discover for herself the bounty of the region its trout, bison, and elk; locally raised poultry; native fruits and vegetables. The result is "Big Sky Cooking," a personal story of this Montana experience told through delicious recipes and menus, charming reflections, and glorious color photographs.
Nearly one hundred recipes, from new dishes to family standbys to reinterpreted classics, are organized into twenty menus that let you dip into the western lifestyle for any occasion: from a sunrise breakfast with eggs straight from the chicken coop to a picnic on the fly, from a rodeo dinner to a moonlight supper under the stars. The food is straightforward, unpretentious fare, as honest as Montanans and guaranteed to make every hour of the day an opportunity to enjoy the good life.
Along the way you'll be introduced to the region's charms: its slow rhythms, its work ethic, the influences of the ancient people and European settlers who formed the present-day state, the "neighbors" who live two hours away, the glow at dusk that's so extraordinary it has its own name.
About the Author
Meredith Brokaw, former teacher, mother of three, and wife of TV anchorman Tom Brokaw, is the founder and owner of the Penny Whistle toys stores, dedicated since 1978 to providing original, creative playthings. She lives in New York.

Ellen Wright has been cooking and entertaining for more than forty years. Before writing cookbooks, she served as an assistant and recipe tester to James Beard and hosted his 75th birthday party, where he declared, Ellen, I don't know anyone who is better at bringing people together, making them feel at home, and serving a damn good meal. Wright studied painting and drawing in college before she applied her artistic talent to the kitchen. In addition to working with Beard, Wright has also studied under Madhur Jaffrey, Lydie Marshall, and Julia Child. She has authored one previous cookbook, Bridgehampton Weekends (William Morrow). Though a regional cookbook, it garnered national media attention from newspapers, magazines, the Today show, and Larry King Live. The New York Times said of Wright, It took Martha Stewart a dozen years, a slew of books, and a lifetime of self-promotion to get the kind of attention Ellen Wright has been showered with since her first book hit stores last month. She is also an interior designer whose clients include CBS Sports, Citicorp, Mr. and Mrs. Tom Brokaw, and Jane Pauley. Currently Wright divides her time between an apartment overlooking the East River in New York City and a renovated farmhouse in Bridgehampton, New York.