Secrets of the Best Chefs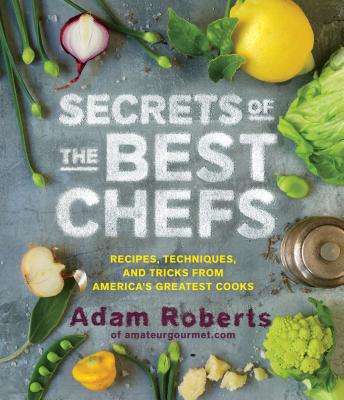 Secrets of the Best Chefs
Recipes, Techniques, and Tricks from America's Greatest Cooks
Artisan Publishers, Hardcover, 9781579654399, 386pp.
Publication Date: November 13, 2012
* Individual store prices may vary.
Buy Now
or
Shop Local
Enter your zip code below to purchase from an indie close to you.
Description
Learn to cook from the best chefs in AmericaSome people say you can only learn to cook by doing. So Adam Roberts, creator of the award-winning blog "The Amateur Gourmet," set out to cook in 50 of America's best kitchens to figure out how any average Joe or Jane can cook like a seasoned pro. From Alice Waters's garden to Jose Andres's home kitchen, it was a journey peppered with rock-star chefs and dedicated home cooks unified by a common passion, one that Roberts understands deeply and transfers to the reader with flair, thoughtfulness, and good humor: a love and appreciation of cooking. Roberts adapts recipes from Hugh Acheson, Lidia Bastianich, Roy Choi, Harold Dieterle, Sara Moulton, and more.
The culmination of that journey is a cookbook filled with lessons, tips, and tricks from the most admired chefs in America, including how to properly dress a salad, bake a no-fail piecrust, make light and airy pasta, and stir-fry in a wok, plus how to improve your knife skills, eliminate wasteful food practices, and create recipes of your very own. Most important, Roberts has adapted 150 of the chefs' signature recipes into totally doable dishes for the home cook. Now anyone can learn to cook like a pro
About the Author
Adam D. Roberts has a JD from Emory University Law School and an MFA in dramatic writing from NYU's Tisch School of the Arts. His website, www.amateurgourmet.com, was named one of the Best Sites on the Web by "PC" magazine. He lives in Park Slope, Brooklyn, and is currently working on a novel.
"From the Hardcover edition."