Charred & Scruffed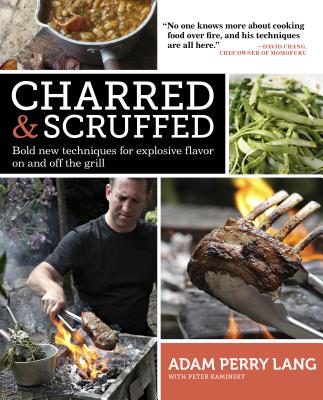 Charred & Scruffed
Bold New Techniques for Explosive Flavor on and Off the Grill
Artisan Publishers, Paperback, 9781579654658, 266pp.
Publication Date: May 2012
* Individual store prices may vary.
Shop Local
Enter your zip code below to find indies closest to you.
Description
With"Charred & Scruffed," bestselling cookbook author and acclaimed chef Adam Perry Lang employs his extensive culinary background to refine and concentrate the flavors and textures of barbecue and reimagine its possibilities. Adam's new techniques, from roughing up meat and vegetables ("scruffing") to cooking directly on hot coals ("clinching") to constantly turning and moving the meat while cooking ("hot potato"), produce crust formation and layers of flavor, while his board dressings and finishing salts build upon delicious meat juices, and his "fork finishers" like cranberry, hatch chile, and mango "spackles" provide an intensely flavorful, concentrated end note. Meanwhile, side dishes such as Creamed Spinach with Steeped and Smoked Garlic Confit, Scruffed Carbonara Potatoes, and Charred Radicchio with Sweet-and-Sticky Balsamic and Bacon, far from afterthoughts, provide exciting contrast and synergy with the "mains.
About the Author
Adam Perry Lang is a classically French-trained chef turned bona fide BBQ expert. He's the founder and co-owner of the nationally acclaimed restaurant Daisy May's BBQ and has serious competition credibility. With his awards and reputation, it's obvious Adam knows his BBQ.

Peter Kaminsky is the author and coauthor of many books, including "Pig Perfect", "Culinary Intelligence", "Seven Fires" and"Mallmann on Fire" (with Francis Mallmann), and "Charred and Scruffed" (with Adam Perry Lang). He is a longtime contributor to "Food & Wine" and a former columnist for "The New York Times" and "New York" magazine. He lives in Brooklyn, New York.