Beautiful You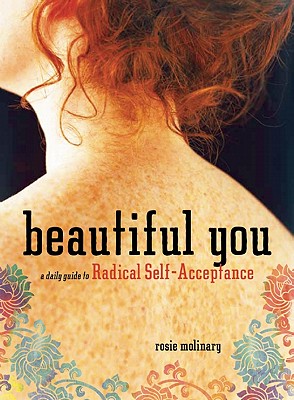 Beautiful You
A Daily Guide to Radical Self-Acceptance
Seal Press (CA), Paperback, 9781580053310, 440pp.
Publication Date: October 5, 2010
* Individual store prices may vary.
Buy Now
or
Shop Local
Enter your zip code below to purchase from an indie close to you.
Description
In "Beautiful You" author Rosie Molinary passionately encourages womenwhatever their size, shape, or colorto work toward feeling wonderful about themselves despite today's media-saturated culture. Drawing on self-awareness, creativity, and mind-body connections, Molinary incorporates practical techniques into a 365-day action plan that empowers women to regain a healthy self-image, shore up self-confidence, reframe and break undermining habits of self-criticism, and champion their own emotional and physical well-being. Through accessible, doable daily actions, women and girls learn to manifest a healthy outlook on lifeteaching them to live large, and starting them on the path to learning to love themselves and others. Molinary steers clear of the florid affirmations and daily meditations often utilized by books geared toward personal growth, instead delivering a hip, modern guide of inspirational thought and action that keeps pace with the times. A practical, candid, and accessible handbook, "Beautiful You" strikes a chord with every woman who has ever faltered in her self-confidence or lost her personal brillianceand it makes sure she never lets it happen again.

About the Author
Rosie Molinary, MFA, is a first-generation Latina born to Puerto Rican parents. Raised in the Southeast, she is a poet, essayist, freelance writer, and creative writing teacher. Her poetry and nonfiction have appeared in numerous anthologies and literary magazines, including Coloring Book (Rattlecat Press), Body Language (Black Moss Press), Waking Up American (Seal Press), Snake Nation Review, Cake Train, and Jeopardy. She lives in Davidson, NC.