F 'Em!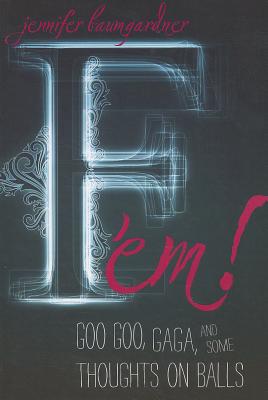 F 'Em!
Goo Goo, Gaga, and Some Thoughts on Balls
Seal Press (CA), Paperback, 9781580053600, 255pp.
Publication Date: September 27, 2011
* Individual store prices may vary.
Buy Now
or
Shop Local
Enter your zip code below to purchase from an indie close to you.
Description
From Jennifer Baumgardner, one of the leading voices of Third Wave feminism, comes this provocative, thoughtful, often funny collection of essays and interviews that offers a state of the union on contemporary feminist issues.
"F 'em " is a mix of old and new essays by Baumgardner, ranging in tone from laugh-out-loud confessional to sobering analysis. She investigates topics as varied as purity balls, sexuality, motherhood, and shared breastfeeding; rape, reproductive rights, and the future of feminism. The essays in "F 'em " are rounded out by candid one-on-one interviews with leading feminists who have influenced Baumgardner's perspectivesincluding Riot Grrrls' Kathleen Hanna, Native American activist Winona LaDuke, transgender activist Julia Serano, and artists like Ani DiFranco, Bjork, and Amy Ray. At turns intimate, fierce, philosophical, and funny, they are an intimate window into the minds and hearts of Third Wave pioneers. Holding it all together is Baumgardner's insightful thinking about what it means to be a feminist today, as she answers frequently-asked questions: What does it mean to be a woman today? Do we even need feminism anymore?
Thought-provoking and cutting-edge, "F 'em " provides a clearer and more complete understanding of feminismits past, its present, and its future.
About the Author
Along with Amy Richards, Jennifer Baumgardner authored "Manifesta: Young Women, Feminism, and the Future" (FSG, 2000) and "Grassroots" (FSG, 2005) and founded the progressive speakers' bureau Soapbox. Baumgardner is also the author of "Look Both Ways" (FSG, 2007), among other books.