Sausage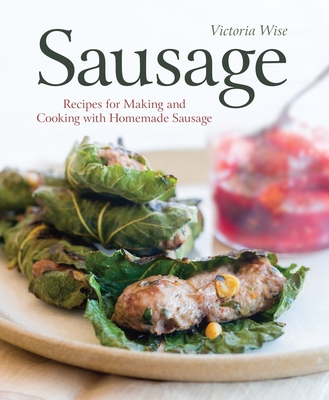 Sausage
Recipes for Making and Cooking with Homemade Sausage
Ten Speed Press, Paperback, 9781580080125, 176pp.
Publication Date: April 27, 2010
* Individual store prices may vary.
Buy at Local Store
Enter your zip code below to purchase from an indie close to you.
or
Buy Here
Description
Think Beyond the Link 
 
You don't have to be an expert cook or have a fancy kitchen to make sausage at home. If you simply think beyond the link, you'll find a whole world of sausage possibilities. Patties, meatballs, fish balls, veg balls, meat loaf—these are all sausages without casings that are every bit as savory and satisfying as their linked cousins. And, since they do not require special equipment, they are a snap to make at home.
 
In Sausage, Victoria Wise shares more than 75 recipes for easy-to-make, no-casing-required pork, beef, lamb, poultry, seafood, and even vegetarian sausages, including innovative recipes that turn them into sophisticated meals. An inviting and wonderfully diverse collection from all around the globe, this compendium features European classics, American mainstays, Asian favorites, Middle Eastern inspirations, and sausages African in origin. You will find dishes for every meal and occasion, such as Rustic Cornmeal Pancakes Dappled with American Breakfast Sausage and Slicked with Maple Syrup; Lunch Pie, aka Quiche, with Toulouse Sausage and Spinach; Vietnamese-Style Beef Sausage and Vegetable Spring Rolls with Mint Dipping Sauce; and Merguez and Apple Tagine over Couscous with Harissa. For those who like their sausage in traditional links, Wise offers expert direction for stuffing sausage into casings.
 
Beautifully written and photographed, Sausage is the only book of its kind. Its array of inventive sausages and sausage-centric dishes are inspiration for both the new and the well-seasoned cook. Making sausage at home has never been so easy—nor the results so delicious.
About the Author
Victoria Wise was the first chef at Chez Panisse and went on to become chef/owner of Berkeley s Pig-by-the-Tail and co-owner with Susanna Hoffman of Oakland s Good & Plenty Cafe. Her most recent Workman book was "The Smith & Hawken Gardeners Community Cookbook". She lives in Oakland, California.
Praise For Sausage…
"For lovers of succulent ground meat dishes, Victoria Wise has written a consciousness-raising cookbook that pooh-poohs the notion that sausage has to be encased — or even made of meat. In "Sausage:  Recipes for Making and Cooking with Homemade Sausage," a slim, practical,  paperback cookbook from 10 Speed Press, she gives the home cook permission to go freestyle. Wise opens up a world of savory ground meat, fish and vegetable dishes that stand on their own or work as part of a bigger picture."
 --San Francisco Examiner, 10/8/10

"Victoria's recipes are inventive and well-spiced. Follow her lead and expand your mind and taste buds with Sausage."
--Super Chef blog, 5/12/10

"Decades before sausage became the fetishized plaything of meat-mad chefs in the Bay Area, Victoria Wise was at the forefront of the ground-meat movement. Her brand-new book, Sausage, shows why."
--TastingTable.com San Francisco edition, 4/26/10