The River Cottage Preserves Handbook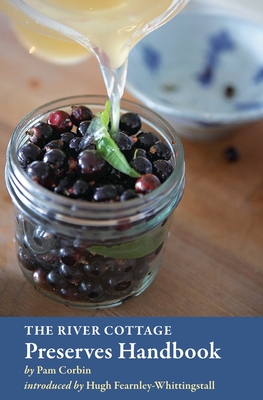 The River Cottage Preserves Handbook
Ten Speed Press, Hardcover, 9781580081726, 216pp.
Publication Date: June 15, 2010
* Individual store prices may vary.
Buy Now
or
Shop Local
Enter your zip code below to purchase from an indie close to you.
Description
The River Cottage farm, established by British food personality Hugh Fearnley-Whittingstall to promote high-quality, seasonal, and sustainable food, has inspired a television series, restaurants and classes, and a hit series of books. In this new addition to the award-winning collection, River Cottage master preserver Pam Corbin helps you transform the abundance of your garden (and your friends and neighbors gardens) into everything from simple Strawberry Jam to scrumptious new combinations like Honeyed Hazelnuts, Nasturtium Capers, Onion Marmalade, Spiced Brandy Plums, Elixir of Sage, plus a pantryful of other jams, jellies, butters, curds, pickles, chutneys, cordials, liqueurs, vinegars, and sauces.
About the Author


Hugh Fearnley-Whittingstall is a writer, broadcaster and campaigner. His series for Channel 4 have earned him a huge popular following, while his River Cottage books have collected multiple awards including the Glenfiddich Trophy (twice), the Andre Simon Food Book of the Year (three times), the Michael Smith Award (twice) and, in the US, the James Beard Cookbook of the Year. Hugh lives in Devon with his family.
Praise For The River Cottage Preserves Handbook…
"For a touch of the homemade every day, try the River Cottage handbooks."
—Everyday Food, Favorite New Cookbooks, December 2010

"Be prepared to make space on your cookbook shelf for these practical, passionate guides. . . . Corbin demystifies the preserving process in this authoritative, and beautiful, book."
—Oregonian, 8/3/10

"A canning and preserving book for the home cook who likely wouldn't call themselves the 'canning' type. . . . Infinitely more engaging than your average American canning book, such as Better Homes & Gardens You Can Can!"
—LA Weekly, 6/28/10

"If you think of the best in homemade jams and preservers and the pleasure in eating your own produce, then you are ready for this book."
—Super Chef blog, 6/22/10

"These compact yet comprehensive hardcover volumes, part of a series written by experts in the River Cottage fold, inspire and instruct with their English charm, deploying a chatty hand-holding that nudges you through the process. The head River Cottage baker, Daniel Stevens, who put together THE RIVER COTTAGE BREAD HANDBOOK spends over 40 pages on mastering the basic loaf. His kneading explanation was so clear I didn't need to constantly refer to the photos; and it taught me some new tricks. . . .This wide-ranging book inspires exploration, and not just because I'll soon be able to slather my warm Scottish oatcakes, roti and even bagels with my own jam, thanks to THE RIVER COTTAGE PRESERVES HANDBOOK. Here Pam Corbin, who runs the Preserving Days at River Cottage, explains the fundamentals of jam, jelly, chutney, cordials, pickles, sauces and more in a demystifying manner. . . . Recipes for hearty ale chutney, spring rhubarb relish and Hugh's prizewinning raspberry fridge jam are within delicious reach."
—NY Times Book Review, Summer Reading Issue, Cookbook Roundup, 6/6/10

"Pam's approach is . . . encouraging and adventurous. In this inspiring book she will show you the ropes and then give you the reins. I'm absolutely sure you will enjoy the ride."
—Hugh Fearnley-Whittingstall, from the Introduction