The Perfect Scoop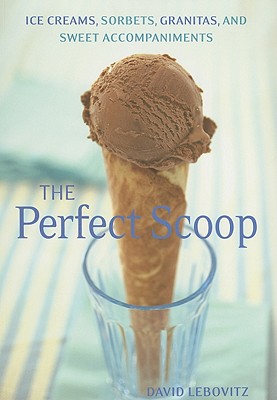 The Perfect Scoop
Ice Creams, Sorbets, Granitas, and Sweet Accompaniments
Ten Speed Press, Paperback, 9781580082198, 246pp.
Publication Date: May 4, 2010
* Individual store prices may vary.
Buy at Local Store
Enter your zip code below to purchase from an indie close to you.
or
Buy Here
Description
Ripe seasonal fruits. Fragrant vanilla, toasted nuts, and spices. Heavy cream and bright liqueurs. Chocolate, chocolate, and more chocolate. Every luscious flavor imaginable is grist for the chill in "The Perfect Scoop," pastry chef David Lebovitz's gorgeous guide to the pleasures of homemade ice creams, sorbets, granitas, and more.
With an emphasis on intense and sophisticated flavors and a bountiful helping of the author's expert techniques, this collection of frozen treats ranges from classic (Chocolate Sorbet) to comforting (Tin Roof Ice Cream), contemporary (Mojito Granita) to cutting edge (Pear-Pecorino Ice Cream), and features an arsenal of sauces, toppings, mix-ins, and accompaniments (such as Lemon Caramel Sauce, Peanut Brittle, and Profiteroles) capable of turning simple ice cream into perfect scoops of pure delight.
"From the Hardcover edition.
About the Author
Author of the highly praised cookbook "Room for Dessert, " David Lebovitz was a pastry cook at Alice Waters's famed Chez Panisse restaurant for twelve years. Named one of the "Top Five Pastry Chefs in the Bay Area" by the San Francisco Chronicle, and nominated for an IACP/Kitchen Aid Award for Room for Dessert, David has been featured in such national publications as "Bon AppEtit, " the "New York Times, People, " and "Gourmet."

Lara Hata is a freelance Bay-Area photographer whose work includes The Perfect Scoop.
Praise For The Perfect Scoop…
"The original ice cream tour de force."
—Cookbooker.com, paperback edition review, 6/2/10

"Here is the rare book in which the recipes live up to the delicious promise of their names . . . The collection of ice creams ranges from the sophisticated to the delightfully childish."
—New York Daily News

Amazon 2007 Top 10 Editor's Picks in Cooking, Food & Wine
"The Perfect Scoop digs right into what you need to know for successful ice creams, sherbets, gelatos, sorbets, frozen yogurts, and granitas."
—New York Times

"Having churned out ice cream at home and in professional kitchens for a quarter century, Lebovitz can guide even a beginner to a great frozen experience. . . . Truly the Good Humor man of home ice cream."
—San Francisco Chronicle

One of the best gift books of the year: "The scoop in the title is perfect, and so is everything else about this cookbook on homemade ice cream. It's informative, full of charm, and loaded with irresistible and impeccably tested recipes."
—Seattle Post-Intelligencer

"Everything you need to know about making anything remotely connected with ice cream . . . Lebovitz is an entertaining read . . . the recipe headnotes alone are worth the price of the book."
—Oregonian

"Packed with beautiful photos and great-sounding recipes."
—Omaha World-Herald

"If you are one of those people who' 'scream for ice cream,' then you will whoop for The Perfect Scoop. . . Ice cream aficionados should be delighted with The Perfect Scoop. It is delicious."
—Peter Franklin's Cookbook Nook, United Press Syndicate

"The author's 25 years of experience as a frozen-dessert maker are put to excellent use in this wittily written, detailed volume. . . . Great photos and plenty of practical advice combine to make this an appealing and useful resource for the dessert aficionado."
—Publishers Weekly

"If you love cold sweets but never dared own an ice-cream machine for fear you'd soon weigh 300 pounds, then consider this book; you may just find some happy compromises."
—Epicurious.com
 
"This is the only book you'll ever need to make stellar ice cream."
—Gale Gand, host of Food Network's Sweet Dreams

"Finally, someone has done real justice to my favorite food, ice cream. David's book is full of new ideas for cold delights and great takes on my favorite chocolate treats."
—John Scharffenberger, cofounder of Scharffen Berger Chocolate Maker and author of Essence of Chocolate

"I screamed, you'll scream—we all scream for David's wonderful ice cream! I highly recommend this book for all ice cream junkies."
—Sherry Yard, pastry chef at Spago and author of The Secrets of Baking

"The Perfect Scoop is luscious and perfectly luxurious—even David's accompaniments and accessories ('mix-ins' and 'vessels' as he calls them) sparkle sweetly."
—Lisa Yockelson, author of Baking by Flavor and ChocolateChocolate