Thai Street Food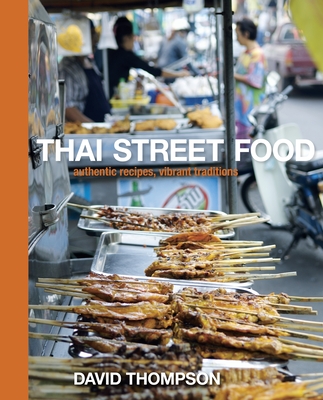 Thai Street Food
Authentic Recipes, Vibrant Traditions
Ten Speed Press, Hardcover, 9781580082846, 371pp.
Publication Date: September 21, 2010
* Individual store prices may vary.
Buy at Local Store
Enter your zip code below to purchase from an indie close to you.
or
Buy Here
Description
Thai Street Food transports readers straight into the bustling heart of Thailand's colorful street stalls and markets--from the predawn rounds of monks fanning out along the aisles to the made-to-order stalls ablaze in neon and jammed with hungry locals after dark. Featuring nearly 100 authentic dishes plus lavish photography accompanying every recipe, this stunning cookbook is the definitive guide to Thailand's culinary street culture. The recipes, such as Steamed Fish with Chilli and Lime Sauce, Pork Satay, Roast Duck and Egg Noodle Soup, and Sweet Banana Roti illuminate the beguiling world of food so integral to the Thais.
 
Scholar and chef David Thompson lives with a singular passion for Thailand's customs, culture, and people. Although he claims "It's all about the food," this ambitious work shares his insights into the rhythms and nuances of Thai daily life along with a fascinating history of its richly diverse street cuisine. This cookbook is a tempting, inspiring, and authoritative account of Thai street food, the vibrant culinary mosaic rich with community.
About the Author
David Thompson is a producer of arts documentaries at the BBC. He has made profiles of such directors as Jean Renoir, Quentin Tarantino, and Milos Forman, and is the coeditor of "Scorsese on Scorsese".

Earl Carter runs his own consultancy business. His numerous clients include Esso Australia, Exxon Mobil, and Tetrapak. He is the co-author of The Return of the Mentor: Strategies for Workplace Learning, The Great Training Robbery: A Guide to the Purchase of Quality Training, Work Based Learning and From Cop to Coach - The Role of the Supervisor in the 90s, which he wrote with Frank McMahon.
Praise For Thai Street Food…
"An entirely over-the-top, large-format volume on the joys of Thai street food."
—Wall Street Journal Asia, Holiday Gift Guide, 2010

"Rest easy knowing that what a Thai vendor produces from a rickety cart on the side of a busy thoroughfare, you should be able to approximate in a modern kitchen."
—Austin Chronicle, Best of 2010 List

"Get swept away to the busy streets of Thailand with gorgeous location photos and authentic recipes for unique food that is amazingly complex, spicy, and humble."
—Bon Appetit, Our Favorite Cookbooks 2010, December Issue

"A coffee-table-size love letter to the art of Thai food hawkers."
—Portland Oregonian, Best of 2010, 12/21/10

"The pictures alone are enough to sell this coffee-table book of Thai street food. Sure, there are recipes too—for dishes such as grilled pork skewers, steamed fish curry, and pad Thai—but it would be nerve-racking to take such a gorgeous book into the kitchen and risk oil splatters and fingerprints."
—The Atlantic's Food Channel, Top Food Books of 2010, 12/17/10

"Chock-full of drool-worthy photos, this oversize book would look right at home on a coffee table. It'll likely stay in the kitchen, though, once you start learning how to make exotic snacks like crunchy prawn cakes and banana fritters."
—Entertainment Weekly, 12/17/10

"My other favorite book came out in the U.S. this year. It's David Thompson's Thai Street Food. I talked about it in 2009 because that's when I got the European release. Now America has the book. Yep, it can double as a doorstop, given its weight and size. But I cook from it. Check the Thai chicken biriyani (khao mok gai) recipe for a sampling of what Thompson's book offers."
—Andrea Nguyen, Viet World Kitchen, 2010 Cookbook Picks, 12/11/10

"This oversized, gorgeously photographed ode to the street food culture of Thailand has one major drawback. It might awaken hunger that only a plane ticket can cure. . . . His recipes, in painstaking detail with ample discussion of their places in Thai cuisine and culture, provide both simple and dizzyingly complex road maps for the adventurous cook."
—Buffalo News, 2010 Gift Guide, 12/8/10

"A riotous magnum opus by this devoted Thai food acolyte, in which any single recipe has flavor equal to approximately 20 meals in the British Isles."
—AOL's Slashfood, Cookbook Gift Guide, 12/7/10

"How do you trump a classic book on Thai cuisine? In 2002 Ten Speed Press published Dave Thompson's Thai Food, almost 700 pages of recipes for dishes from relishes to sweets, illustrated with color photos and prefaced by a short history of the culture. The press has just outdone itself with the same author's Thai Street Food: Authentic Recipes, Vibrant Traditions. This time the book is oversize (11 x 13") and generous with photos not only of many dishes, but also of the markets, klongs (canals), and street stands at which an astonishing array of food can be purchased. . . . Thai Street Food is as much a travel book as a cookbook, exemplary in both categories. . . . Because of its size and heavy use of color, Thompson's new volume is a luxury, priced more like an art book than a cookbook; but if you can get our hands on a copy, it's a treasure."
—The Huffington Post, 12/6/10

"Bigger than a motorbike and just as transporting, Thompson's  book is a love letter to the street food of Bangkok. Word on the, um, street is that the recipes taste just like the originals."
—The New York Times Book Review, Web Extra: 25 More Cookbooks, 12/3/10

"Street food has entered the culinary consciousness, getting shout-outs from chefs everywhere in the last decade. David Thompson was among the first to champion Thai cuisine, earning him a Michelin star. His latest book is gigantic – you'll need extra-wide counters to actually use it. The large-scale format, however, reflects an incredible array of Thai dishes: satays and sticky rice, yes, but curries, noodles and shrimp cakes, too. Divided into morning, noon and night, recipes and photo essays travel through markets, cooking stalls and Bangkok's historic Chinatown. Thompson's knowledge is in-depth, and his sense of awe is contagious. Just prepare to scour specialty stores for ingredients. Gift it with Dwell magazine, to start planning those extra-wide kitchen counters." 
—Montreal Gazette, Favorite Cookbooks of 2010, 12/1/10

"Part coffee-table book, part travelogue, part cookbook, this full-color celebration of Thai culture and cuisine is a feast for the eyes and the stomach. Thompson, who has been traveling to Thailand since the 1980s, breaks the book down into breakfast, lunch and dinner sections (he calls them Morning, Noon and Night); colorful photographs by Earl Carter bring this oversized book to vibrant life."
—Denver Post, 2010's Best Cookbooks, 12/1/10

"An education unto itself."
—StarChefs.com, Top 10 Cookbooks 2010: Honorable Mention, November 2010

"Anyone who loves the exotic flavor and cooking methods of Thailand will devour this oversized book, which divides recipes according to the time of day they're enjoyed. The Roast Duck and Egg Noodle Soup had us clawing at the page."
—Tampa Tribune, Holiday Gift Guide, 11/26/10

"Take advantage of the Michelin-starred chef's trawl for the best of Bangkok's street vendors. Follow the precise, authentic recipes and the results will be better than your local Thai. Probably."
—The Observer Food Monthly, 25 Best Cookbooks of 2010, 11/14/10

"Featuring recipes for the sort of adventurous street eats that travel tv is built on, this stunning visual document boasts 185 poster-sized food and market scene photos."
—Time Out New York, The Season's Best Cookbooks, 11/12/10

"A beautiful, engrossing door-stopper of a book, Thai Street Food is a travelogue, a history lesson, a cookbook and a glimpse of a day in the life of the vibrant street food of Thailand."
—Cookbooker.com, 11/3/10

"A hunger-inspiring tour of the outdoor markets and food stalls of Thailand. The evocative photos and recipes for noodles, curries, satays, salads, roasted meats, and more capture the daily rhythms, bright flavors, and bustling spirit of Bangkok's streets, and will appeal to anyone with a love for Thai cuisine."
—Fine Cooking, 10/25/10

"Just like I'm used to from his standard on Thai cuisine, his recipes work. Feel authentic. And taste oh so good!"
—DeliciousDays.com, 9/28/10

"David Thompson's latest is not only a phenomenal primer in authentic Thai cooking, it is a work of art--full of some of the most gorgeous food photographs ever taken. I dearly love this book."  
—James Oseland, editor in chief of Saveur and author of Cradle of Flavor
 
"Spend time with David Thompson's Thai Street Food as I have. Take in the images and contemplate the tastes. Then immerse yourself by preparing the food. This is a revelatory work."  
—Andrea Nguyen, author of Into the Vietnamese Kitchen
 
"Generous photographs full of life raise this appreciative and knowledgeable exploration of classic Thai street foods to a new level. We are transported instantly to Bangkok's street-side restaurants and stalls, where from early morning to late-night, Thai culinary flare is on dazzling display."  
—Naomi Duguid, coauthor of Hot Sour Salty Sweet
 
"The food cognoscenti in America have finally begun celebrating our street foods as something more than novelty, but as David Thompson shows us, the culture of cooking, eating, and sharing in public is at the very heart of Thai life. The recipes, cultural scenes, and photographs in this wonderful book feel so alive--rich with the flavor, messiness, and spirit of living."  
—Francis Lam, food editor, Salon.com