How to Shit in the Woods, 3rd Edition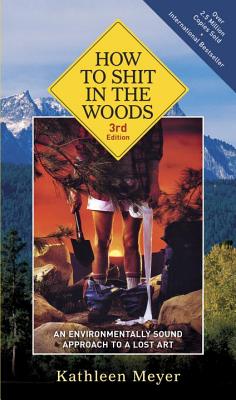 How to Shit in the Woods, 3rd Edition
An Environmentally Sound Approach to a Lost Art
Ten Speed Press, Paperback, 9781580083638, 136pp.
Publication Date: March 15, 2011
* Individual store prices may vary.
Buy at Local Store
Enter your zip code below to purchase from an indie close to you.
or
Buy Here
Description
It's the feisty third edition of How to Shit in the Woods, jam-packed with new information for outdoor enthusiasts of every stripe. Hailed in its first edition as the most important environmental book of the decade by Books of the Southwest, and in its second as the real shit by the late, great, outdoor photographer Galen Rowell, this bestselling guide is often called the backpacker's bible and has sold more than 2.5 million copies in eight languages. Author Kathleen Meyer continues to pioneer the way with her inimitable voice at once humorous, irreverent, and direct examining the latest techniques for graceful backcountry elimination, and answering a desperate cry from nature concerning environmental precautions in our ever-shrinking wilds.
World changes come fast and furious, and in the backcountry it is no different. The practice of packing-it-out, adopted to protect high use areas and fragile eco-systems, is here to stay. We are now often urged to haul our poop home. Or with increasing frequency, the whole business is mandatory. To assist with all this responsible human waste disposal, Meyer's new edition features the latest in product innovations, from classy high-tech to inexpensive do-it-yourself. She covers the most current solutions to the health risks of drinking straight from wilderness waterways; presents a raft of natural substitutes for the purist swearing off toilet tissue; and offers a wealth of new recommendations for ladies who must make do without a loo.
This down-to-earth guide has been employed as a training aid for scout troops, outdoor schools, and wilderness programs for inner-city youth; for rangers with the U.S. Forest Service, National Park Service, and Bureau of Land Management; as well as for whitewater rafting guides, backcountry outfitters, and members of the military.
In rowing hundreds of urbanites down whitewater rivers, Meyer honed her squatting skills and found she wasn t alone in the klutz department. Her delightfully shameless discussion of a once-shameful activity, her erudite examination of its associated vocabulary, and her unapologetic promotion of its colorful vernacular make How to Shit in the Woods essential and vastly entertaining reading for anyone who's ever paused at the edge of the forest and pondered: Where do I go to go?
About the Author
A longtime outdoorswoman, KATHLEEN MEYER is the founding editor of Headwaters, published by Friends of the River. Her travel essays have been included in the Travelers Tales anthologies A Woman s Passion for Travel: More True Stories from a Woman s World and Sand in My Bra and Other Misadventures: Funny Women Write from the Road. Her adventure memoir Barefoot Hearted: A Wild Life Among Wildlife was released by Villard in 2001. Whitewater rafter and canoeist, sea-kayaker and sailor, she is also a draft horse teamster, having traversed three Rocky Mountain states by horse-drawn wagon. Ever the nontraditional spirit, Meyer resides in an old, rather unrestored, dairy barn in Montana s Bitterroot Valley and is available for interviews. Visit her Website www.KathleenintheWoods.net and hop onto her blog Shooting the Shit"
Praise For How to Shit in the Woods, 3rd Edition…
"Kathleen Meyer has contributed to environmental awareness while lending a grand old English word the respectability it hasn't had since Chaucer's day."
--FRANK GRAHAM, Audubon magazine