How to Survive a Garden Gnome Attack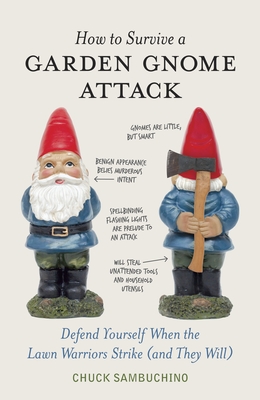 How to Survive a Garden Gnome Attack
Defend Yourself When the Lawn Warriors Strike (and They Will)
Ten Speed Press, Hardcover, 9781580084635, 112pp.
Publication Date: September 7, 2010
* Individual store prices may vary.
Buy at Local Store
Enter your zip code below to purchase from an indie close to you.
or
Buy Here
Description
Move over zombies and adolescent vampires.
There's a new threat in town and it's only twelve inches tall. "How to Survive a Garden Gnome Attack "is the only comprehensive survival guide that will help you prevent, prepare for, and ward off an imminent home invasion by the common garden gnome. Once thought of as harmless yard decorations, evidence is mounting that these smiling lawn statues are poised and ready to wreck havoc. The danger is real. And it's here.
Class 1 gnome-slayer and gnome defense expert Chuck Sambuchino has developed a proven system Assess, Protect, Defend, Apply for safeguarding property, possessions, and loved ones. Strategies include step-by-step instructions for gnome-proofing the average dwelling, recognizing and interpreting the signs of a gathering hoard, and in the event that a secured perimeter "is" breached confronting and combating the attackers at close range.
About the Author
Chuck Sambuchino, Cincinnati, OH, is an editor, best-selling humor book author, and authority on how to get published. He works for Writer's Digest Books and edits the Guide to Literary Agents and the Children's Writer's & Illustrator's Market. His Guide to Literary Agents Blog all about agents, submissions, and platform is one of the largest blogs in publishing.
Praise For How to Survive a Garden Gnome Attack…
"Just AWESOME...filled with delightfully demonic photographs of rampaging, blissful garden gnomes. This is a classic 'gift' book (just in time for Christmas) with eye candy pictures galore."
—This Garden Is Illegal blog, 9/29/10

"reminiscent of a 'Monty Python's Flying Circus' sketch, which is the highest praise I can bestow on a humor book."
—Carpe Geum blog, 9/26/10

"The book is written so straightforward that it seems believeable. And helpful. And—well, words fail me...the book is a hoot...[it] is perfect to display on a coffee table. Think of the fun you'll have when your guests notice it. Will they look around to see if diminutive creatures are sneaking up on them? Will they look at you as if you're totally nuts. At any rate, fun will ensue...The book would also make a great gift for a gardening enthusiast—especially if the gardener already has some garden gnomes. Or bundle the book with a garden gnome and let the recipient really wonder about you."
—Peevish Pen blog, 9/23/10 

"Let's say your smiling lawn gnomes are plotting a home invasion. Here's the definitive guide to 'prevent, prepare for and ward off' that attack."
—Sacramento Bee
 
"This breezy read and its charming photos are ideal for anyone who melts whenever they find a new version of that classic ceramic yard ornament, the gnome."
—Denver Post
 
"Hooray to Chuck Sambuchino for not breaking character once during his entire book … including the Acknowledgements page. This book is for those special folks with quirky senses of humor."
—San Francisco Book Review
 
"Every gardener and most non-gardeners will love this stylish, hilarious book."
—Buffalo Spree Magazine

"You'll laugh. You'll question the sanity of the message. You will look with new eyes on that garden gnome you thought was a mere, sweet little elfin garden ornament. I found myself wondering as I finished this marvelous small book; when will How to Survive a Pink Flamingo Attack, be released? I highly recommend this book to gnome lovers/owners everywhere. Even if you are not a gnome owner, but a gardener or have a neighbor who gardens—you need to read this book for your own protection or for a laugh a minute if you prefer humor."  
—Billie A Williams, award-winning mystery and suspense author