Serve Yourself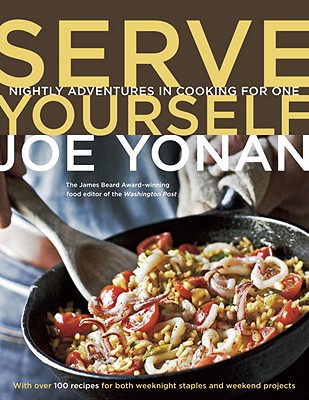 Serve Yourself
Nightly Adventures in Cooking for One
Ten Speed Press, Paperback, 9781580085137, 178pp.
Publication Date: March 29, 2011
* Individual store prices may vary.
Buy at Local Store
Enter your zip code below to purchase from an indie close to you.
or
Buy Here
Description
From the award-winning food editor of The Washington Post comes a cookbook aimed at the food-loving single. Joe Yonan brings together more than 100 inventive, easy-to-make, and globally inspired recipes celebrating solo eating. Dishes like Mushroom and Green Garlic Frittata, Catfish Tacos with Chipotle Slaw, and Smoked Trout, Potato, and Fennel Pizza will add excitement to any repertoire and forever dispel the notion that single life means starving, settling for take-out, or facing a fridge full of monotonous leftovers. Yonan also includes shopping and storage tips for the single-chef household, along with creative ideas for making use of extra ingredients. "Serve Yourself" makes cooking for one a deeply satisfying, approachable pleasure. And with such delectable meals, your solo status could be threatened if you're forced to share with others.
About the Author
Joe Yonan (Boston, MA) is travel editor for The Boston Globe, where his articles have appeared in the Travel, Food, Calendar, and Life at Home sections. He makes regular appearances talking about food and travel on The Globe at Home show on New England Cable News, and has hosted online chats about cooking, restaurants, and travel on Boston.com. Mr. Yonan is a graduate of the Cambridge School of Culinary Arts.

Ryan Farr is a chef, entrepreneur, butcher, butchery teacher, and the founder of 4505 Meats. He lives in San Francisco.
Praise For Serve Yourself…
"So heads up, single cooks! Get inspired to cook delicious meals just for yourself with these tips and recipes from the author."
—Epicurious.com

"Joe Yonan's written a book of recipes so electric and stimulating anyone who co-habitates with a loved one will seriously consider a trial separation just to eat this food the way it was intended to be eaten."
—Adam Roberts, creator of The Amateur Gourmet

"Joe Yonan's book Serve Yourself is proof that good things can come in small packages or, in this case, in single servings. Full of delicious and sophisticated recipes, solo diners who love food and cooking will no longer be shortchanged at the table thanks to Joe's book."
—Jose Andrés, Chef, restaurateur and author of Made in Spain

"Joe Yonan's Serve Yourself is brilliant for those who cook and dine alone, but his hip, sensible approach works equally well for couples looking to eat simply and well."
—Pam Anderson, USA Weekend food columnist, blogger, and author of Perfect One-Dish Dinners

"I usually cook for family or friends, but there is something liberating about cooking just for myself. No pressure! I am free to try the strangest combinations and I can eat in my pajamas and using my fingers. There are not enough books that teach you how to cook for one! In Serve Yourself, the food is so good that you won't notice that you are eating it by yourself and you do not have to wash the dishes . . . at least not right away."
—Jacques Pépin, author and host of "Fast Food My Way"

"In the course of our busy lives, time spent with one's self is precious. It is necessary to understand ourselves better--necessary to meditate, to reflect, to be creative, and to answer our emails. Eating solo is one of those special moments in our lives that we need to celebrate, to embrace, and certainly Joe Yonan's cookbook Serve Yourself has captured that very moment with delicious recipes and tips on how to make it happen."
—Lidia Bastianich, restaurateur and author of Lidia Cooks from the Heart of Italy

"Eating by yourself is one of life's great pleasures. Joe Yonan also proves that great food for one can be fast, simple, and delicious. So pour yourself a glass of wine, fire up the oven for a crisp, hot cheese and fig pizza, or stuff a few tacos with slow-roasted Mexican pork. And the best part?--you don't have to share!" 
—David Lebovitz, author of Ready for Dessert and The Sweet Life in Paris