Washoku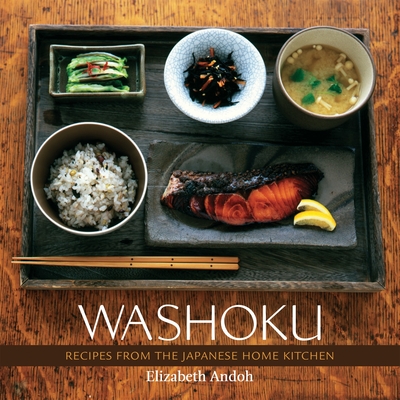 Washoku
Recipes from the Japanese Home Kitchen
Ten Speed Press, Hardcover, 9781580085199, 320pp.
Publication Date: October 1, 2005
* Individual store prices may vary.
Buy Now
or
Shop Local
Enter your zip code below to purchase from an indie close to you.
Description
In 1975, Gourmet magazine published a series on traditional Japanese food the first of its kind in a major American food magazine written by a graduate of the prestigious Yanagihara School of classical cuisine in Tokyo. Today, the author of that groundbreaking series, Elizabeth Andoh, is recognized as the leading English-language authority on the subject. She shares her knowledge and passion for the food culture of Japan in WASHOKU, an authoritative, deeply personal tribute to one of the world's most distinctive culinary traditions. Andoh begins by setting forth the ethos of washoku (traditional Japanese food), exploring its nuanced approach to balancing flavor, applying technique, and considering aesthetics hand-in-hand with nutrition. With detailed descriptions of ingredients complemented by stunning full-color photography, the book's comprehensive chapter on the Japanese pantry is practically a book unto itself. The recipes for soups, rice dishes and noodles, meat and poultry, seafood, and desserts are models of clarity and precision, and the rich cultural context and practical notes that Andoh provides help readers master the rhythm and flow of the washoku kitchen. Much more than just a collection of recipes, WASHOKU is a journey through a cuisine that is rich in history and as handsome as it is healthful.Awards2006 IACP Award WinnerReviews This extensive volume is clearly intended for the cook serious about Japanese food. Minneapolis Star Tribune . . . scholarly, yet inspirational . . . a foodie might just sit back and read for sheer enjoyment and edification. Milwaukee Journal Sentinel.
About the Author


Alice Medrich is truly a star in the baking world, having won more cookbook-of-the-year awards and best in the dessert and baking category awards than any other author. She received her formal training at the prestigious Ecole LenOtre in France, and is widely credited with introducing the chocolate truffle to the United States when she began making and selling them at her influential Berkeley dessert shop, Cocolat. She has since left the retail world, devoting much of her career to teaching and sharing her expansive knowledge about baking.She is the author of "Flavor Flours", ""Seriously Bitter Swee"""t" (a complete revision of her 2003 IACP-prize-winning "BitterSweet"), "Sinfully"" Easy Delicious Desserts", " Chewy Gooey Crispy Crunchy Melt-in-Your-Mouth Cookies", "Pure Dessert", and "Chocolate Holidays".