Rustic Italian Food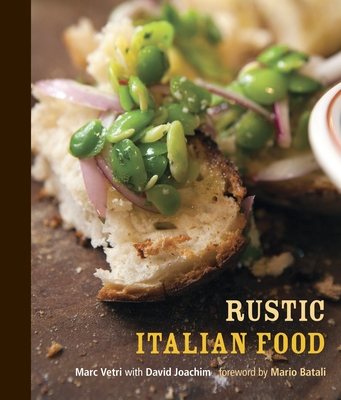 Rustic Italian Food
Ten Speed Press, Hardcover, 9781580085892, 291pp.
Publication Date: November 1, 2011
* Individual store prices may vary.
Buy at Local Store
Enter your zip code below to purchase from an indie close to you.
or
Buy Here
Description
From acclaimed chef Marc Vetri comes this celebration ofhandcrafted, regional Italian cooking and its many traditions.
Slow-cooked meats, homemade breads, flavorful pastas...these are the traditional comfort-food classics that Italians have been roasting, baking, curing, and making in their own kitchens for generations--dishes that people actually want to cook and eat. In "Rustic Italian Food," acclaimed Philadelphia chef Marc Vetri celebrates the handcrafted cuisine of Italy, advocating a hands-on, back-to-the-basics approach to cooking. Home cooks of every skill level will revel in the 120 recipes, such as sweet Fig and Chestnut Bread, rich Spinach and Ricotta Gnocchi, savory Slow-Roasted Lamb Shoulder, and fragrant Apple Fritters. Rustic Italian Food is also an education in kitchen fundamentals, with detailed, step-by-step instructions for making terrines, dry-cured salami, and cooked sausage; a thorough guide to bread and pasta making; and a primer on classic Italian preserves and sauces. Much more than just a collection of recipes, in this book Marc Vetri connects us directly to the essence of Italian food.
About the Author
Trained in Bergamo, Italy, by some of the region s most noted chefs, Marc Vetriis the chef/owner of Vetri Ristorante, Osteria, Amis, and the forthcoming Alla Spina, all located in Philadelphia. Vetri was named one of"Food & Wine s"Ten Best New Chefs and received the"Philadelphia Inquirer" s highest restaurant rating; he also won the James Beard Award for Best Chef Mid-Atlantic. Vetri has been profiled in"Gourmet, Bon Appetit, "the"Philadelphia Inquirer," and the"New York Times." Visit his restaurants online at: www.vetrifamily.com

David Joachimhas authored, edited, or collaborated on more than thirty-five cookbooks, including the IACP award-winning"The Food Substitutions Bible"and the"New York Times"bestsellers"A Man, a Can, a Grill"and"Mastering the Grill," co-authored with Andrew Schloss. He lives in Allentown, Pennsylvania. Visit David at: www.davejoachim.com."
Praise For Rustic Italian Food…
"Vetri is not only a chef but a home cook. He is a veteran cookbook writer and old soul who thrives on thoroughness and detail. But above all Vetri is a mensch, generous and kind and full of life, and he brings that to every page."
—Gabrielle Hamilton, chef and author of Blood, Bones & Butter

"Philadelphia's Marc Vetri will unapologetically teach you the way Italian food has been made for centuries, but in doing so will apply modern sensibilities that make his food the favorite of chefs around the country … Not sure about making your own pasta? Start with the spinach and ricotta gnudi. They're simple and as sexy as they sound, assuming you know that the 'g' is silent."
—St. Petersburg Times, 12/14/11

"Marc Vetri's rustic food is very family friendly, big on flavor, with detailed recipes that will make you want to cook."
—Ideas in Food, 12/13/11

"This is a precision how-to book for a much broader range of foodstuffs – from great rustic breads to delicious mostardas and even homemade charcuterie … Rustic Italian Food demonstrates compellingly that good cooking is not about bling but about simplicity, understanding, and feeling."
—The Austin Chronicle, 12/9/11

"These recipes prove why [Marc Vetri's] restaurants are so successful."
—Detroit News, 12/8/11

"Sometimes you just want rustic, and Italian rustic to me seems compelling … This is a primer on all things Italian food with detailed, step-by-step instructions for making terrines, dry-cured salami, cooked sausage, bread, pasta and classic Italian preserves and sauces - traditional comfort that Italians have been dishing in their kitchens for generations." 
—Ottawa Citizen, 11/23/11

"As a grown-up, I've never tried to make fresh pasta; the prospect seemed so daunting and time-consuming, with messy volcanoes of flour and eggs and a thousand esoteric contraptions. Rustic Italian Food, homeboy Marc Vetri's handsome new cookbook, proved me wrong."
—Philadelphia City Paper, 11/17/11

"This book is good like that, building foundations home cooks can expand upon. The pages feel heavy in hand, like well-rested pizza dough, and are layered with solid information that helps you understand why, for example, you should use a honey starter in one bread recipe versus a sourdough starter in another, or why some pasta doughs call for eggs and others don't."
—Philadelphia City Paper, 11/17/11

"Some of the book's most significant tidbits are not in the ingredient lists, but in the chapter introductions and cooking instructions. You might never make lamb mortadella, but reading about the process, in Vetri's approachable, engaging description, is captivating, in the same way people who have never turned on a stove watch Food Network cooking shows for hours."
—Philadelphia Inquirer, 11/9/11
 
"Rustic Italian Food … [is] a multifaceted experience: It's part reference (see chapters on meat curing and paragraphs on oils and cheese); part culinary philosophy (his opinion of molecular cooking and absentminded line cooks), part travelogue (like his laugh-out-loud search for the perfect Parisian baguette), part expert cookbook (homemade pastas, breadmaking, spit-roasting a pig), and part novice cookbook (some recipes, like the spinach gnudi, marinara, and salads, are downright Rachael Ray simple)."
—Philadelphia Inquirer, 11/9/11
 
"Vetri is the real deal: a philanthropic, guitar-playing, accomplished, brilliantly modest chef who owns three restaurants, has two cookbooks, runs a million dollar foundation, and by happenstance embodies the "six perfections" that a Bodhisattva must generate -- hence the title of this piece. These are: generosity, ethics, patience, effort, concentration and wisdom."
—The Huffington Post, 10/11/11

"Much more than just a collection of recipes, in this book Marc Vetri connects us directly to the essence of Italian food. . . . Vetri knows Italian food and we're excited to see what he has to teach. The cover alone makes us want to take a bite out of the book."
—The Huffington Post, 8/25/11

"Marc Vetri cooks the best Italian food in America. Now he shares his secrets with all of us. Get ready for gutsy flavors, silky pasta dishes, and your friends and family running to the table for meal after meal." 
—BOBBY FLAY, chef and restaurateur of Mesa Grill and Bar Americain
 
"There are few, if any, chefs in America I would rather have cook for me. [Vetri is] a true magician of Italian cuisine who relies on fantastic ingredients and impeccable technique to create his rustic yet sophisticated food. I am going to run, not walk, to get this book ...you should, too, because these recipes will take your breath away."
—MICHAEL SYMON, chef and author of Michael Symon's Live to Cook
 
"Marc Vetri has grasped an elementary but elusive truth: good cooking isn't about obscure ingredients or technical razzle-dazzle, and it certainly isn't about recipes. It's about understanding food--thinking about it intelligently and feeling it. Vetri's passion is for the elegantly straightforward cuisines of Italy and Italian-accented America, and in Rustic Italian Food he gives us plenty to chew on in this regard. Anyone who digests this volume will end up not just a better Italian cook but a better cook, period."
—COLMAN ANDREWS, co-founder of Saveur and editorial director of thedailymeal.com
 
"In Rustic Italian Food, Marc Vetri has captured, with his unique style and deliciousness, the essence of Italian flavors, kitchen fundamentals, and techniques. In this book, Marc has collected an abundance of recipes featuring traditional rustic Italian food. Each enticing chapter is prefaced with a sort of mini class on the subject, and then followed by an array of both comprehensive and easily executable recipes. This is surely a book you will want to add to your kitchen library."
—LIDIA BASTIANICH, restaurateur and author of Lidia Cooks from the Heart of Italy
 
"Marc's love affair with food is obvious. His simple hands-on approach is refreshing; he is a true craftsman. Simply put, Marc is the best Italian cook working in America today."
—TOM COLICCHIO, chef/owner of Craft Restaurants