Cooking My Way Back Home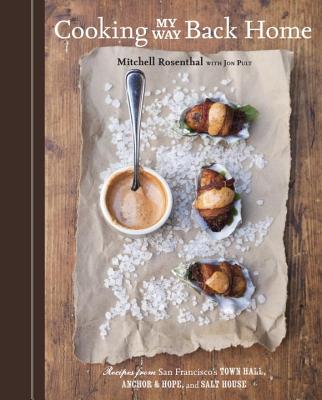 Cooking My Way Back Home
Recipes from San Francisco's Town Hall, Anchor & Hope, and Salt House
Ten Speed Press, Hardcover, 9781580085922, 263pp.
Publication Date: October 18, 2011
* Individual store prices may vary.
Shop Local
Enter your zip code below to find indies closest to you.
Description
In "Cooking My Way Back Home, " Mitchell Rosenthal delivers the same warmth, personality, and infectious enthusiasm for sharing food as can be found at his wildly popular San Francisco restaurants, Town Hall, Anchor and Hope, and Salt House. With his trademark exuberance and good humor, Mitchell blends Southern-inspired comfort food with urban sophistication and innovation, for exciting results. Reflecting on the classics (Shrimp EtouffEe), updating regional specialties (Poutine), elevating family favorites (Chopped Liver), and reveling in no-holds-barred, all-out indulgences (Butterscotch Chocolate Pot de CrEme) are what's on order in this collection of 100 imaginative and irresistible recipes. Like a good friend offering up a platter of freshly fried Oysters REmoulade, these robust, full-flavored recipes are impossible to refuse.
About the Author
Praise For Cooking My Way Back Home…
Finalist, IACP Awards 2012, Food Photography & Styling Category (Paige Green)
New York Times Notable Cookbook of 2011

"It is the accessible techniques and simple bold flavors that Rosenthal demonstrates throughout his book that make it so winning." 
—The City Cook, Fall 2011

"In writing the book, Rosenthal makes those emotional connections that bind families together through communal dining. Yes, you can go home again."  
—San Antonio Express News, 12/2/11

"Mr. Rosenthal understands simple pleasures (prime rib, barbecued shrimp, angels on horseback) and how to give them the modern tweaks that home cooks want."  
—New York Times, Notable Cookbooks of 2011, 11/29/11
 
"Through the years and through many kitchens, Mitch developed an adventurous philosophy not bound to a single cuisine, blending Jewish deli roots with Southern-inspired comfort food, updated regional favorites and urban sophistication." 
—Mary Ladd, Bay Area Bites: KQED, 11/19/11 

"Part restaurant recipe resource, part memoir, and part manifesto calling for a return to communal food preparation and family meals." 
—Allison Jones, Portland Monthly, 11/9/11

"The book shares with the restaurants a kind of rollicking, good-time feel. Nothing is too fussy nor too complicated. .. .Every dish in this book would make dinner guests happy, and unlike some other cookbooks, these recipes are meant for home cooks."
—Tasting Table San Francisco, 10/17/11

"The book reflects Rosenthal's past and, in particular, his passion for all things Southern. . . . Like everything else Rosenthal has a hand in, it's a fun book."
—San Francisco Chronicle, 10/16/11

"The best cookbook title ever."
—Esquire, Best New Cookbooks, 10/14/11

"Full of the hearty food that Town Hall, Anchor & Hope, and Salt House are known for."
—7x7 San Francisco, 10/6/11

"Over the last twenty years, a great incentive for me to spend time in San Francisco has been to eat the cooking of Mitch Rosenthal, first at Postrio, then Town Hall, and now Salt House. This talented chef is at ease with any regional cooking, from New Jersey to New York, or Louisiana to San Francisco. From elegant and delicate to earthy peasant fare, his dishes have one thing in common: amazing taste. Cooking My Way Back Home reflects Mitch's passion, enthusiasm, and great talent, and his love of cooking shines throughout the book. This is a great addition to your kitchen library."
—Jacques Pepin, author and host of Fast Food My Way
 
"Mitchell Rosenthal's cooking reminds me so much of the food my grandmother and my mother made. He has taken basic Southern food and turned it into an art form that can be eaten. Read his recipes. Cook them and you will be richly rewarded."
—Willie Brown, 41st mayor of San Francisco
 
"Mitch's generous approach to cooking presents a master's expression of comfort food: inspired preparations with a wink from the modern chef's kitchen."
—Chad Robertson, author of Tartine Bread