Into the Vietnamese Kitchen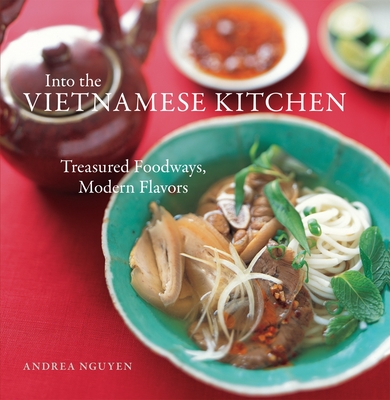 Into the Vietnamese Kitchen
Treasured Foodways, Modern Flavors
Ten Speed Press, Hardcover, 9781580086653, 344pp.
Publication Date: October 2006
* Individual store prices may vary.
Shop Local
Enter your zip code below to find indies closest to you.
Description
When author Andrea Nguyen's family was airlifted out of Saigon in 1975, one of the few belongings that her mother hurriedly packed for the journey was her small orange notebook of recipes. Thirty years later, Nguyen has written her own intimate collection of recipes, INTO THE VIETNAMESE KITCHEN, an ambitious debut cookbook that chronicles the food traditions of her native country. Robustly flavored yet delicate, sophisticated yet simple, the recipes include steamy pho noodle soups infused with the aromas of fresh herbs and lime; rich clay-pot preparations of catfish, chicken, and pork; classic banh mi sandwiches; and an array of Vietnamese charcuterie. Nguyen helps readers shop for essential ingredients, master core cooking techniques, and prepare and serve satisfying meals, whether for two on a weeknight or 12 on a weekend.Reviews
Andrea Nguyen may be to Vietnamese food what Julia Child was to French fare and Barbara Tropp to Chinese cuisine. Chicago Tribune Best for: Anyone who wants to fall in love truly, madly, deeply with Vietnamese food. San Jose Mercury News A] smart, soulful collection of Vietnamese recipes. Saveur A comprehensive take on a delicate yet dynamic cuisine. Philadelphia Inquirer No other author has presented such a detailed account of the culinary abilities of Vietnamese home cooks, and subjects like the role of pickled vegetables and the techniques of charcuterie have never been so clearly explained for a wide audience. New York Times"Only now is Vietnamese food culture getting the attention it deserves, and a book of this beauty and seriousness will do much to explain the origins, traditions, and refinement of the country's cuisine. John Mariani's Virtual Gourmet Nguyen makes Vietnamese cuisine accessible with this extensive cookbook, which stretches from soup to charcuterie. Houston Chronicle An impressive, carefully researched, and thoroughly readable guide to Vietnamese food and culinary tradition. Library Journal.
About the Author


Alice Medrich is truly a star in the baking world, having won more cookbook-of-the-year awards and best in the dessert and baking category awards than any other author. She received her formal training at the prestigious Ecole LenOtre in France, and is widely credited with introducing the chocolate truffle to the United States when she began making and selling them at her influential Berkeley dessert shop, Cocolat. She has since left the retail world, devoting much of her career to teaching and sharing her expansive knowledge about baking.She is the author of "Flavor Flours", ""Seriously Bitter Swee"""t" (a complete revision of her 2003 IACP-prize-winning "BitterSweet"), "Sinfully"" Easy Delicious Desserts", " Chewy Gooey Crispy Crunchy Melt-in-Your-Mouth Cookies", "Pure Dessert", and "Chocolate Holidays".

Bruce Cost is widely recognized as one of the nation's leading experts on Asian cooking. An award-winning restaurateur and chef, acclaimed cooking teacher, and former food columnist for the San Francisco Chronicle, Cost is now a culinary partner in Big Bowl Restaurants, the Chicago-based chain renowned for its innovative pan-Asian food. He is the author of two other books, Ginger East to West and Big Bowl Noodles and Rice, a new collection of recipes from the restaurant.